Child Psychology: Development in a Changing Society, 5th Edition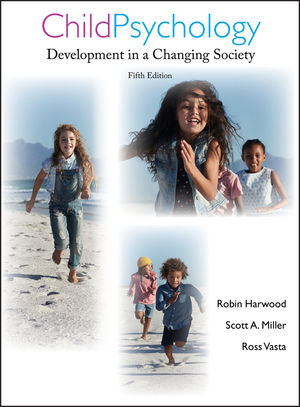 Child Psychology: Development in a Changing Society, 5th Edition
ISBN: 978-0-470-46085-6 November 2008 784 Pages
Description
This new fifth edition captures the excitement and relevance of child psychology at the beginning of the 21st century; a theme that is exemplified in the text's new subtitle: Child Development in a Changing Society. In addition to extensive research coverage, each chapter includes an additional section that relates the chapter subject to social and cultural contexts, or implications of research for social policy, public practice, or societal change. This new edition places children, child development, and the contexts in which development occurs at the center of the discourse. Thus, this edition has a strong balance of theory, research, and real-world application.
PART I UNDERSTANDING THE CONTEXTS OF CHILD DEVELOPMENT
1 Frameworks for Development
Child Development in Space and Time 4
Key Issues In Child Development 12
RESEARCH & SOCIETY The Social Construction of Childhood 13
Child Development Research in Applied Contexts 17
CONVERSATIONS Conversations with an Outreach Liaison 18
Theoretical Perspectives—An Overview 19
APPLICATIONS Theories as Everyday Explanations for Behavior 33
2 Studying Child Development and Its Contexts
Studying Children 40
Methods Used to Study Children 42
CONVERSATIONS Conversations with a Cross-Cultural Psychologist 48
Studying Development 52
APPLICATIONS Wise Consumers of Research on Development 54
Issues in the Study of Children 56
RESEARCH & SOCIETY Studying AIDS Orphans in Africa 60
3 The Biological Context of Development
Mechanisms of Inheritance 68
Genes and Behavior 73
Interaction of Genes and Environment 77
Genetic Disorders 81
RESEARCH & SOCIETY the Human Genome Project 86
Pathways to Parenthood 91
APPLICATIONS Journey to Parenthood 94
CONVERSATIONS Conversations with an Adoption Social Worker 96
PART II CONTEXTS OF PHYSICAL DEVELOPMENT
4 Prenatal Development, Birth, and the Newborn
Pregnancy 106
RESEARCH & SOCIETY Technology and Gender Selection 112
Stages of Prenatal Development 113
Prenatal Environmental Influences 118
Birth 130
CONVERSATIONS Conversations with a Certified Professional Midwife 132
The Newborn 135
APPLICATIONS Caring for Preterm and Low-Birthweight Infants in the NICU 138
5 Early Capacities in Infancy
The Organized Infant 150
APPLICATIONS Sleep in Cultural Perspective 152
Motor Development 157
CONVERSATIONS Conversations with an Infant Physical Therapist 162
Perceptual Development 163
RESEARCH & SOCIETY Infants' Perception of Motion 174
6 The Brain, Physical Growth, and Health
The Brain 192
RESEARCH & SOCIETY Imaging the Brain 198
Physical Growth 200
Physical Health in Infancy 205
CONVERSATIONS Conversations with a Family Nutritionist 210
Physical Health in Childhood and Adolescence 215
APPLICATIONS Just Say No? Teens, Sexuality, and Society 220
PART III CONTEXTS OF COGNITIVE DEVELOPMENT
7 Piaget and Vygotsky
Piaget's Cognitive-Developmental Theory 231
Cognition During Infancy: The Sensorimotor Period 233
Thought in the Preschooler: The Preoperational Period 241
APPLICATIONS Selecting Developmentally Appropriate Play Materials 244
Middle-Childhood Intelligence: The Concrete Operational Period 248
Adolescent and Adult: The Formal Operational Period 251
Vygotsky and the Sociocultural Approach 255
RESEARCH & SOCIETY Weaving Generations Together: Evolving Creativity in the Maya of Chiapas 258
Piaget and Vygotsky on Language and Thought 262
Impacts of Piaget and Vygotsky on Education 264
CONVERSATIONS Conversations with an Early Childhood Educator 267
Comparing the Cognitive-Developmental and Sociocultural Approaches 267
8 Information Processing and Core Knowledge Approaches
The Information Processing Approach to Cognition 282
RESEARCH & SOCIETY Children's Eyewitness Testimony 289
CONVERSATIONS Conversations with a Child Therapist 290
Developmental Changes in Memory 290
Cognitive Tools 290
Problem Solving 297
The Core Knowledge Approach to Cognition 307
Theory of Mind 313
APPLICATIONS Brains in a Box: Do New Age Toys Deliver on the Promise? 314
9 Intelligence and Schooling
Intelligence: IQ Testing and the Psychometric Approach 328
Individual and Group Differences in IQ 331
APPLICATIONS Reducing Stereotype Threat in Minority Populations 336
Alternative Conceptions of Intelligence 338
Schooling: Variations and Effects 343
RESEARCH & SOCIETY Culture, Schooling, and the Mind 346
CONVERSATIONS Conversations with a Special Educator 355
Culture, Diversity, and Schooling 358
10 Language and Communication
Components of Language 376
Theories of Language Development 378
Preverbal Communication in Infancy 383
Semantics: First Words and Vocabulary 385
Grammar: Communicating in Sentences 392
CONVERSATIONS Conversations with a Speech-Language Pathologist 393
Development of Pragmatics: Socially Appropriate Use of Language 399
Contexts That Influence Language Development 402
APPLICATIONS Teaching Children to Read 406
RESEARCH & SOCIETY Bilingual Education 410
PART IV CONTEXTS OF SOCIAL AND EMOTIONAL DEVELOPMENT
11 Social and Emotional Worlds of Infants and Young Children
Temperament 428
Emotions and Early Communication 432
Attachment to Others 440
APPLICATIONS Promoting Healthy Parent-Infant Relationships 445
Attachment Relationships in a Changing World 448
RESEARCH & SOCIETY In the Child's Best Interest? 451
CONVERSATIONS Conversations with a CASA Volunteer Supervisor 452
Social and Emotional Development in Contexts of Risk 453
12 Self and Identity
Theories of the Self 467
Self-Knowledge 469
RESEARCH & SOCIETY Culture and the Self 470
Self-Control 475
Self-Evaluation and Self-Esteem 482
CONVERSATIONS Conversations with a School Guidance Counselor 493
Identity and Society 493
APPLICATIONS Possible Selves and Academic Achievement 497
13 Sex Differences and Gender Role Development
Sex Differences: Perceived and Real 513
APPLICATIONS Should Schools Teach Visual-Spatial Skills? 518
Influences on Sex Differences and Gender Role Development 522
RESEARCH & SOCIETY When Genotype and Phenotype Don't Match 524
The Child's Active Participation in Gender Role Development 532
Gender Role Development 535
CONVERSATIONS Conversations with Men in Nontraditional Roles 536
Development of Sexual Relationships and Behavior 539
14 Moral Development
Theories of Moral Development 552
Influences on Moral Development 560
RESEARCH & SOCIETY When Are We Obligated to Help Others? Cultural Differences in Children's Perceptions 561
Prosocial Behavior 564
CONVERSATIONS Conversations with a Marriage and Family Therapist 565
Determinants of Prosocial Behavior 569
Aggression 572
Controlling Childhood Aggression 578
APPLICATIONS Intervening in the Lives of Aggressive Children 582
15 Relationships with Peers
Peer Sociability 596
Peer Acceptance 604
RESEARCH & SOCIETY Bullying and Victimization in School 608
APPLICATIONS Enhancing Peer Competence among Shy Children 610
The Social Contexts of Peer Relationships 612
CONVERSATIONS Conversations with a Community Mental Health Practitioner 618
16 Families and Society
Parenting Styles 626
RESEARCH & SOCIETY Cross-Cultural Perspectives on Parental Acceptance and Rejection 630
The Family as a Social System 633
Families in Social Context 638
APPLICATIONS Building Tolerance in a Diverse Society 646
Families in a Changing Society 648
CONVERSATIONS Conversations with a Child Protective Services Administrator 654
Glossary G1
References R1
Author Index I1
Subject Index I20
New lead author Robin Harwood.
Emphasis on the contextualist view of human development. In addition to discussing effects of schools, families, and peers in separate chapters, contextual factors are also considered.