Child Psychology and Development For Dummies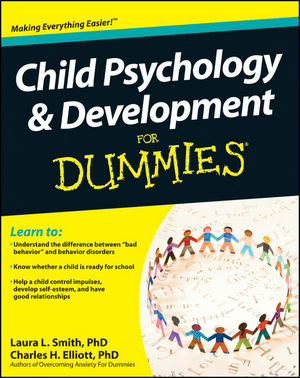 Child Psychology and Development For Dummies
ISBN: 978-1-118-03221-3 February 2011 384 Pages
Description
A complete and comprehensive guide to why kids behave and think the way they do-and how to bring out the best in them.
In the U.S., more than 10% of children are diagnosed with psychiatric disorders, while countless others remain undiagnosed. Defining what is "normal" and what is not is of great concern to anyone who works with, guides, nurtures, teaches, or parents children.
With new discoveries in mental disorders that affect children, Child Psychology & Development For Dummies provides an informational guide to cognitive development at every stage of a child's life, as well as how to diagnose, treat, and overcome the cognitive barriers that impede learning and development.
How to identify and treat mental disorders
Covers behavior disorders, autism, attention deficit disorder, reading disabilities, bipolar disorder, and more
Guidance on helping a child control impulses, develop self esteem, and have good relationships
An essential guide for parents, teachers, and caregivers, Child Psychology & Development For Dummies provides a detailed overview of an average child's cognitive development, how to detect abnormalities, and what to do next.
Table of contents
Introduction.
Part I: Understanding Children: The Big Picture.
Chapter 1: Exploring Child Psychology.
Chapter 2: What Makes Kids Tick?
Chapter 3: Goals of Growing Up.
Part II: Watching Kids Grow.
Chapter 4: Pregnancy, Delivery, and the First Year.
Chapter 5: Tackling the Toddler Years (Ages 1–4).
Chapter 6: The Middle Childhood Years (Ages 5 – 12).
Chapter 7: Traversing the Teen Years (Ages 13–18).
Part III: Growing Great Kids.
Chapter 8: Creating Functional Families.
Chapter 9: Optimizing Education.
Chapter 10: Building the Right Village for Kids.
Part IV: Spotting Troubled Development.
Chapter 11: Facing Physical Problems.
Chapter 12: Understanding Problems That Interfere with Learning.
Chapter 13: Addressing Autism Spectrum Disorders.
Chapter 14: Emotional Disorders.
Chapter 15: Exploring Behavior Disorders.
Chapter 16: Looking at Trauma and Abuse.
Part V: Getting the Right Therapies.
Chapter 17: Types of Therapy That Work.
Chapter 18: Enhancing Educators' Efforts.
Chapter 19: Knowing What Parents Can Do.
Part VI: The Part of Tens.
Chapter 20: Ten Ways to Calm Kids Down.
Chapter 21: Ten Signs of Gifted Kids.
Chapter 22: Ten Signs That a Kid Needs Help.
Appendix: Developmental Milestones.
Index.