Child and Adolescent Client Education Handout Planner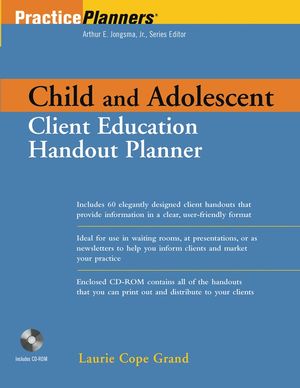 Child and Adolescent Client Education Handout Planner
ISBN: 978-0-471-20233-2
Apr 2003
176 pages
Product not available for purchase
Description
Help educate your child and adolescent clients on a variety of mental health topics

The Child and Adolescent Client Education Handout Planner provides you with an array of ready-to-use handouts designed to educate your clients on a variety of issues and concerns related to their mental health and personal growth. This easy-to-use sourcebook features:
60 fact-filled handouts on various psychological and emotional disorders and life skills techniques
Listings of resources where clients can go for reliable, in-depth information
Handouts that provide educational information on a wide variety of mental health issues affecting children and adolescents, including Attention-Deficit/Hyperactivity Disorder (ADHD), autism, eating disorders, abuse, self-esteem, and many others
A CD-ROM that contains handouts in a PDF format—allowing you to easily print out and distribute them to suit you, your clients', and your practice's unique style and needs
Practice
Planners
®
Series Preface.
Acknowledgments.
Introduction.
SECTION I: PROBLEM-FOCUSED HANDOUTS.
Anxiety in Children.
Attachment Disorder.
Attention-Deficit/Hyperactivity Disorder (ADHD).
Attention-Seeking with Disruptive Behavior.
Autism.
Childhood Speech and Language Disorders.
Children, Teens, and Suicide.
Conduct Disorder.
Dealing with Common Adoption Issues.
Depression in Children and Teens.
Eating Disorders.
Encopresis.
Enuresis (Bed Wetting).
Fire Setting.
Gender Identity Disorder.
Helping a Child Recover from Sexual Abuse.
Helping Children in Divorcing Families.
Helping Kids Manage Angry Feelings.
Helping Kids Recover from Loss.
How to Build Your Child's Self-Esteem.
How to Help Victims of Child Abuse.
Kids Who Sexually Abuse Other Kids.
Living with Your Child's Serious Medical Condition.
Managing Family Conflict.
Managing the Stepfamily.
Mania and Hypomania.
Mental Retardation.
Oppositional Defiant Disorder (ODD).
Phobias.
Posttraumatic Stress Disorder (PTSD).
Psychosis.
Runaway Kids.
Separation Anxiety.
Sexual Acting Out.
Sleep Disturbances.
Social Anxiety Disorder (Shyness).
What to Do About Teen Chemical Dependence.
When Kids Don't Want to Go to School.
When Kids Underachieve.
SECTION II: LIFE SKILLS HANDOUTS.
Assertiveness Skills (for Teens).
Building People Skills (for Teens).
Building Positive Teen Relationships.
Dealing with Peer Pressure (for Teens).
Expressing Feelings Responsibly (for Teens).
Goal Setting (for Teens).
Helping Your Child or Teen Manage Stress.
Helping Your Child Succeed in School.
Helping Your Kids Manage the Relocation Blues.
Helping Your Kids to Be Self-Confident.
How to Cope When Parenting Seems Overwhelming.
How to Help a Friend through a Crisis (for Teens).
I'm Planning to Come Out to My Family. What Should I Expect?
Life Skills (for Teens).
Listening Skills (for Teens).
Personal Negotiation Skills (for Teens).
Positive Reinforcement (for Parents).
Teaching Your Child to Respect Others.
Understanding Body Language (for Teens).
What Teens Need to Know about HIV and AIDS.
Workplace Skills (for Teens).
Helpful Books and Web Sites.