Childhood Disorders Diagnostic Desk Reference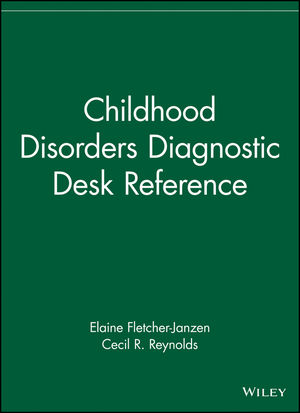 Childhood Disorders Diagnostic Desk Reference
ISBN: 978-0-471-40428-6
Feb 2003
720 pages
Description
The Childhood Disorders Diagnostic Desk Reference provides detailed information on the identification, prevalence, treatment, and ramifications of hundreds of childhood disorders. Written in nonmedical terms, this go-to reference presents in a single source the critical information you need to refer an affected child to a qualified physician or other specialist, hold a conference with the child's caregivers, and appropriately tailor an educational experience to fit the child's abilities. Spanning the pediatric medical, psychiatric, and educational fields, the range of disorders and diseases covered includes rare disorders coupled with hard-to-find information regarding more frequently encountered childhood disorders.

Each of the nearly 700 entries provides:
A definition of the disorder
Special education concerns
Incidence and prevalence rates
Prognosis and future research
Characteristics of the disorder
References
Treatment methods
Complete with both an extensive symptom index and resources for further investigation, Childhood Disorders Diagnostic Desk Reference is the ideal volume for administrators, educators, social workers, and mental health professionals working in schools.
Buy Both and Save 25%!
Original Price:$146.95
Purchased together:$110.21
save $36.74
Cannot be combined with any other offers.
Book collaborators (Encyclopedia of Special Education, 2d ed.) and college educators Fletcher-Janzen (Univ. of Northern Colorado) and Reynolds (Texas A&M Univ.) have edited a text-dense reference work geared toward those working in the fields of child psychology, special education, neurology, and pediatrics, as well as toward the interested lay reader.  As they state in the preface, "Many children with the disorders listed in this wok will also require special education services." The almost 200 contributors, mostly academicians from U. S. universities, have written 700 entries describing a wide variety of childhood disorders, ranging from frequently seen (e.g., Down syndrome) to rare (e.g., Wildervanck syndrome). Many other rare syndromes (e.g., Canavan disease) have been omitted, but psychiatric disturbances such as Emotional Lability are included. See and See also references are used selectively. Each entry includes a definition, statistics, characteristics, treatment, special education concerns (e.g., children with Marie's ataxia need to have "special seating arrangements, safety devises, and increased supervision"), prognosis, and bibliogra phic references from both print and online sources. Because URLs go out of date so rapidly, the reader may become frustrated; for example, the frequently cited National Organization for Rare Diseases (NORD) is no longer located at www.stepstn.com but at www.rarediseases.org. There are a small number of bland-and-white photographs and an integrated subject and symptom index. Those patrons seeking more scientific information on the topics discussed here may wish to consult a free database, such as Online Mendelian Inheritance in Man (OMIM; www.ncbi.nlm.nih.gov/omim), while those seeking more general information will find that James Wynbrandt and Mark Ludman's The
Encyclopedia of Genetic Disorders and Birth Defects, 2d ed.,
covers the middle ground. Unlike Grey House's
The Complete Directory for Pediatric Disorders, 2002 Edition
, this volume does not include wide-ranging lists of national organizations, support groups, or summer camps. If your library's budget allows, this text would be a welcome addition to college libraries offering degrees in education, as well as the professional reading shelves of counselors, nurses, and special education teachers in any school. –Martha E. Stone, Massachusetts General Hosp. Lib., Boston. (
Library Journal,
July, 2003)
...the text is well-organized, written in understandable terms and has the treatment and intervention options all in one place...Even with the Internet, it would be difficult to find the educational and treatment suggestions found in this text. Childhood Disorders: Diagnostic Desk Reference is an excellent resource and one may find it very tempting to sit and sift through the tremendous range of disorders/syndromes. (Tom Cushman, Ph.D. NASP Communiqué – September 2004)
More than 600 childhood physical and psychological disorders, including hard-to-find information on rare disorders, arranged alphabetically.
Only book of its kind to include educational considerations for childhood disorders.
Extensive symptom index.