Childhood Social Development: The Essential Readings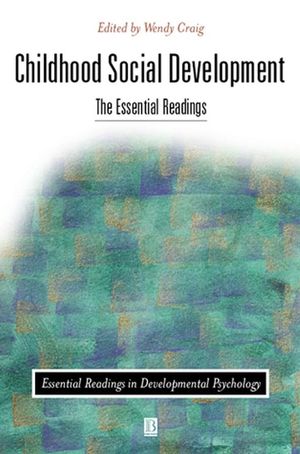 Childhood Social Development: The Essential Readings
ISBN: 978-0-631-21741-1
Apr 2000
388 pages
Description
Childhood Social Development: The Essential Readings provides students with a selection of some of the key articles by key researchers in this core area of developmental psychology.
Preface.
Introduction: What is Social Development: Craig, W. M.
Part I: Social Relationships:.
1. Attachments: Infant-Mother Attachement: Ainsworth, M. D. S.
2. Parenting: Supportive Parenting, Ecological Context, and children's Adjustment: A Seven Year Longitudinal Study: Pettit, B. S. Bates, J.E & Dodge, K. A.
3. Friendships: The Company They Keep: Friendships and Their Developmental Significance: Hartup, W.
4. Peer Relations Preadolescent Friendship and Peer Rejection as Predictors of Adult Adjustment: Bagwell, C.L., Newcomb, A. F., & Bukowski, W. M.
Part II: The School Context:.
5. Bullying and Victimization: Observations of Bullying and Victimization on the Schoolyard: Craig, W. & Pepler, D. J.
6. Friendship and School Adjustment: Friendship Quality as a Predictor of Young Children's Early School Adjustment: Ladd, G., Kochenderfer, B. & Coleman, B.
7. Extracurricular Activities: Do Extra Curricular Activities Protect Against Early School Drop Out?: Mahoney, J. L. & Cairns, R. B.
Part III: Gender Identity, The Self, and Moral Development:.
8. Gender Differences: Gender and Relationships: Maccoby, E. E.
9. Self Concept: Structure, Stability, and Development of Young Children's Self Concepts: A Multicohort Multioccasion Study: Marsh, H. W., Craven, R., & Debus, R.
10. Moral Reasoning: Children's Reasoning about Interpersonal and Moral Conflicts: Smetana, J. G. Killen, M. & Turiel, E.
Part IV: Aggression:.
11. Forms of Aggression: Engagement in Gender Normative Versus Nonnormative Forms of Agression: Links to Social-Psychological Adjustment: Crick, N. R.
12. Development of Antisocial Behavior: A Developmental Perspective on Antisocial Behaviour: Patterson, G. R., Debaryshe, B. & Ramsey, E.
13. Prevention of Conduct Disorders: The Role of Social Context in The Prevention of Conduct Disorder: Coie, J. D. & Jacobs, M. R.
Index.
"This book provides a useful introduction to current themes in social development research. It will provide relevant background material for anyone interested in finding ways to promote social and emotional intelligence in children." Claire Chapman, Brighton and Hove, Educational Psychology in Practice, Vol. 16, No. 4, 2000, p.497-8.


Childhood Social Development introduces students to this exciting and growing field of developmental psychology.


Each of the articles has been chosen to reflect the dynamic, changing nature of the subject and the diversity of research and thinking within the area of social development, together with its accessibility to students at all levels.


Written by leading researchers such as Willard Hartup, Eleanor Maccoby, and Gary Ladd, the articles are both introduced and contextualized by the editor.


Suggestions for further reading give students an ideal starting point for exploration of the key topics in childhood social development.