Childhood Speech, Language, and Listening Problems: What Every Parent Should Know, 2nd Edition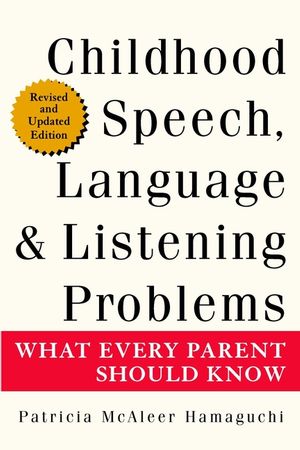 Childhood Speech, Language, and Listening Problems: What Every Parent Should Know, 2nd Edition
ISBN: 978-0-471-21329-1
Nov 2001
224 pages
Description
Does your child have trouble speaking or listening?

This fully revised and updated edition of the essential guide explains what you can do to help

Have you noticed that your child has difficulty getting the right words out, following directions, or being understood? If so, speech-language pathologist Patricia Hamaguchi -who has been helping children overcome problems like these for more than twenty years-has now revised and updated her highly effective guide to help you determine what's best for your child. Find out all you need to know about:
* Autism/PDD, central auditory processing disorders, dyspraxia, bilingual language development, adoption issues, thumb-sucking, and more
* How to recognize the most common speech, language, and listening problems
* When to get help for your child and when to wait
* Where to find the right specialist and what to ask
* How to read and understand the jargon-filled evaluation report
* The very latest changes in philosophy, treatment approach, labeling, laws, programs, and resources
* How the problem may affect your child academically, socially, and at home
* Tips for helping your child at home


"Provides valuable information for parents of children with speech, language, and listening problems."----Sandra C. Holley, Ph.D., Former President, American Speech-Language-Hearing Association
Acknowledgments.

Introduction.

WHAT YOU SHOULD KNOW AND HOW TO GET HELP.

Speech, Language, and Listening: How They Develop.

Does Your Child Need Help?: The Warning Signs.

Having Your Child Evaluated.

After the Evaluation: Understanding Report Jargon and the IEP.

SPEECH, LANGUAGE, AND LISTENING PROBLEMS.

Understanding Speech Problems.

Understanding Language Problems.

Understanding Listening Problems.

Causes and Conditions.

Appendix A: Resources.

Appendix B: Suggested Reading.

Glossary.

Bibliography.

Index.