Children's Health For Dummies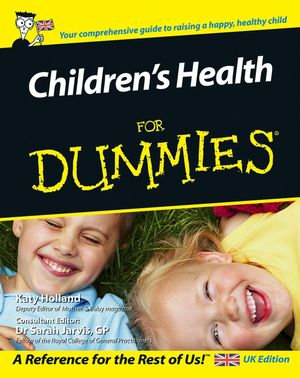 Children's Health For Dummies
ISBN: 978-0-470-51056-8 January 2007 364 Pages
Description
Your children's good health is central to their happiness – and yours! For a parent, coping with a sick child is worrying and the amount of information you need to know can be overwhelming. But help is at hand with this practical, jargon free guide - packed full of information – providing advice on every aspect of your child's health. Outlining all the basics from vaccinations to visiting your doctor, it also provides expert advice on keeping your child healthy and how to spot what is wrong if they do become poorly. Helpful to both first time parents and those with more than one little angel, explanations of key symptoms and typical illnesses, along with first aid advice, provide you with the ideal complete reference to your child's health, from new-born to pre-teen.
Introduction.
About This Book.
Conventions Used in This Book.
How This Book Is Organised.
PART I: CHILDREN'S HEALTH: THE BASICS.
Chapter 1: Your Child's Health in a Nutshell.
Chapter 2: Your Child's Body and Development.
Chapter 3: The Immune System and Immunisation.
Chapter 4: Who's Who? The Roles of Healthcare Professionals.
 PART II: THE FIRST YEAR OF LIFE.
Chapter 5: Is My Baby Okay? Health and Development Checks in the First Year.
Chapter 6: Feeding Your Baby.
Chapter 7: Spotting the Signs that Something's Wrong.
Chapter 8: Hello World! Common Newborn Health Niggles.
 PART III: RAISING HEALTHY CHILDREN.
Chapter 9: The Importance of Nutrition.
Chapter 10: Exercise, Activity, and Play.
 Chapter 11: Dozing Off: The Importance of Sleep.
Chapter 12: Basic Hygiene and the War on Germs.
PART IV: SYMPTOMS, ILLNESSES, AND TREATMENTS.
Chapter 13: Symptoms and What They May Mean.
Chapter 14: Common Childhood Illnesses.
Chapter 15: Allergies, Asthma, and Eczema.
Chapter 16: Behavioural Problems and Emotional Health.
PART V: PLAYING DOCTORS AND NURSES: LOOKING AFTER A SICK CHILD.
Chapter 17: Caring for an Ill Child.
Chapter 18: Knowing Something about Medicines.
Chapter 19: Knowing Something about First Aid.
 PART VI: THE PART OF TENS.
Chapter 20: Ten Ways to Stay Healthy on Holiday.
Chapter 21: Ten Health Web Sites You Can Trust.
Chapter 22: Ten Ways to Keep Your Child Safe at Home.
Index.
""…practical, accessible advice…"" (
Mother & Baby
, September 2006)
""…you'll be home-educating in a trice."" (Families South East, September 2006)
""...you can expect the book to cover absolutely every topic on children's health imaginable, and it certainly does. ...highly recommend..."" (Familiesonline.co.uk, September 2006)