Children's Literature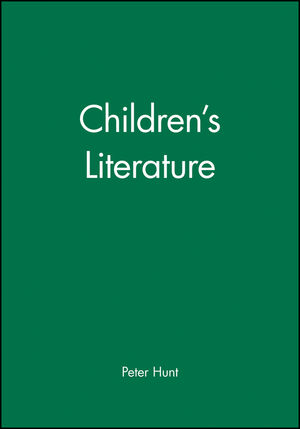 Children's Literature
ISBN: 978-0-631-21141-9 January 2001 Wiley-Blackwell 360 Pages
Download Product Flyer
Download Product Flyer
Download Product Flyer is to download PDF in new tab. This is a dummy description. Download Product Flyer is to download PDF in new tab. This is a dummy description. Download Product Flyer is to download PDF in new tab. This is a dummy description. Download Product Flyer is to download PDF in new tab. This is a dummy description.
Description
This practical guide provides a comprehensive and inviting introduction to English-language children's literature from the eighteenth-century to 2000.
The book opens with a discussion of the often controversial theory and history of this influential and entertaining subject, and explores the ways in which it can be approached.
The Guide includes:
Detailed critical surveys of the work of forty major authors, from Mrs Sherwood to J. K. Rowling, Louisa May Alcott to Dr Seuss, Mary Grant Bruce to Margaret Mahy, and Quentin Blake to Ted Hughes.


Studies of over twenty key texts, placing each in its historical and generic context: books include the pioneering A Little Pretty Pocket Book (1744), classics such as Tom Brown's Schooldays, The Adventures of Tom Sawyer, and Seven Little Australians, modern classics from The Hobbit and C. S. Lewis's 'Narnia' books, to Charlotte's Web and Harriet the Spy, as well as influential translations, such as Emil and the Detectives.


Discussion of important issues, themes and genres, including censorship, postcolonialism, fantasy, gender, illustration, and literacy.


All of the entries are supported by up-to-date critical bibliographies.

Children's Literature offers a helpful and inspiring foundation for further study, and will be an essential resource for students from disciplines as varied as literature, history, education, cultural studies, and the general reader.
Table of contents
Contents.
Acknowledgements.
Chronology.
Introduction.
About Children's Literature and this Book.
Matters of Selection.
Matters of 'Theory' and Definition.
Matters of History.
Constructing History.
Tone and address.
Content.
Gender, Politics and Ideology.
Rethinking History.
How to Use This Book.
Note on the Bibliographies.
Authors.
Janet Ahlberg (1944-1997) and Allan Ahlberg (1938-).
Louisa May Alcott (1832-88).
Edward Ardizzone (1900-1979).
Quentin Blake (1932-).
Judy Blume (1938-).
Enid [Mary] Blyton (1897-1968).
Mary Grant Bruce (1878-1958).
Frances Hodgson Burnett (1849-1924).
Lewis Carroll (Charles Lutwidge Dodgson) (1832-98).
Robert Cormier (1925-).
Richmal Crompton [Lamburn] (1890-1969).
Roald Dahl (1916-1990).
Dr. Seuss (Theodor Seuss Geisel, 1904-1991).
Anne Fine (1947-).
Alan Garner (1934-).
Virginia [Esther] Hamilton (1936-).
G[eorge] A[lfred] Henty (1832-1902).
Russell [Conwell] Hoban (1925-).
Ted Hughes (1930-1998).
[Joseph] Rudyard Kipling (1865-1936).
E[laine] L[obl] Konigsburg (1930-).
Patricia MacLachlan (1938-).
Margaret Many (1936-).
Jan [Janet Marjorie] Mark (1943-).
William Mayne (1928-).
A[lan] A[lexander] Milne (1882-1956).
E[dith] Nesbit (1858-1924).
[Helen] Beatrix Potter (1866-1943).
Terry Pratchett (1948-).
Philip Pullman (1946-).
Arthur Ransome (1884-1967).
Michael Rosen (1946-).
J[oanne] K. Rowling.
Maurice [Bernard] Sendak (1928-).
Mary Martha [Butt] Sherwood (1775-1851).
Robert Louis Stevenson (1850-94).
Rosemary Sutcliff (1920-1992).
Patricia Wrightson (1921-).
Key Texts.
L[ucy] M[aud] Montgomery (1874-1942), Anne of Green Gables (1908).
Richard Jefferies (1848-87), Wood Magic (1881) and Bevis (1882).
Anna Sewell (1820-78), Black Beauty (1877).
Mary Norton (1903-1992), The Borrowers (1952), The Borrowers Afield (1955), The Borrowers Afloat (1959), The Borrowers Aloft (1961), The Borrowers Avenged (1982).
E[lwyn] B[rooks] White (1899-1985), Charlotte's Web (1952).
Susan [Mary] Cooper (1935),The Dark is Rising sequence: Over Sea, Under Stone (1965), The Dark is Rising (1973), Greenwitch (1974), The Grey King (1975), Silver on the Tree (1977).
Isaac Watts (1674-1748): Divine Songs Attempted in Easy Language for the Use of Young Children (1715).
Ursula K[roeber]. Le Guin (1929-): The 'Earthsea' Quartet': A Wizard of Earthsea (1968), The Tombs of Atuan (1972), The Farthest Shore (1973), Tehanu (1990).
Louise Fitzhugh (1928-74), Harriet the Spy (1964).
J[ohn] R[onald] R[euel] Tolkien (1892-1973), The Hobbit, or There and Back Again (1937).
Imported Classics.
Laura Ingalls Wilder (1867-1957) The 'Little House' series: Little House in the Big Woods (USA 1932/UK 1956), Farmer Boy (1933/1965), Little House on the Prairie (1935/1957), On the Banks of Plum Creek (1937/1958), By the Shores of Silver Lake (1939/1961), The Long Winter (1940/1962), These Happy Golden Years (1943/1964), The First Four Years (1971/1973).
John Newbery (1713-67), A Little Pretty Pocket Book (1744).
Louisa May Alcott (1832-88), Little Women (1868) and Good Wives (1869).
Norman Lindsay (1879-1969), The Magic Pudding (1918).
P[amela] L[yndon] Travers (1906-1996), Mary Poppins (1934).
C[live] S[taples] Lewis (1898-1963): Narnia' Series. The Lion, the Witch and the Wardrobe (1950), Prince Caspian (1951), The Voyage of the 'Dawn Treader' (1952), The Silver Chair (1953), The Horse and his Boy (1954), The Magician's Nephew (1955) and The Last Battle (1956).
J[ames] M[atthew] Barrie (1860-1937) 'Peter Pan' (1904...).
Eleanor H[odgman] Porter (1868-1920), Pollyanna (1913).
Francis Hodgson Burnett, The Secret Garden (1911).
Ethel S[ybil] Turner (1872-1958) Seven Little Australians (1894).
Alan Garner (1934-), The 'Stone Book' Quartet. The Stone Book (1976), Granny Reardun (1977), The Aimer Gate (1978), Tom Fobble's Day (1977).
Elizabeth Enright (1909-68), The Thimble Summer (1938).
Thomas Hughes (1822-96), Tom Brown's Schooldays, by an Old Boy (1857).
Philippa Pearce (1920-), Tom's Midnight Garden (1958).
'Mark Twain' (Samuel Langhorne Clemens (1835-1910)), The Adventures of Tom Sawyer (1876).
Robert Louis Stevenson (1850-94), Treasure Island (1883).
Natalie Babbitt (1932-), Tuck Everlasting (1975).
Charles Kingsley (1819-75), The Water Babies. A Fairy Tale for a Land-Baby (1863).
Kenneth Grahame (1859-1932), The Wind in the Willows (1908).
L. Frank Baum (1856-1919) The [Wonderful] Wizard of Oz (1900).
Topics.
Censorship.
Colonialism, Post-Colonialism, Multiculturalism.
Criticism and Theory.
Drama, Film, Media.
Fantasy.
Folk Tale, Fairy Tale, Myth, Legend.
Gender.
Literacy.
Nursery and Playground Rhymes, Storytelling.
Picture Books.
Poetry.
School Stories.
War.
General Bibliography and Guide to Further Reading.
Reviews
"A constantly agile, challenging, attractively informal book that will provoke the specialists and enlighten all who share 'the joy of the subject'." Books for Keeps