Children's Speech and Literacy Difficulties: Identification and Intervention, Book 2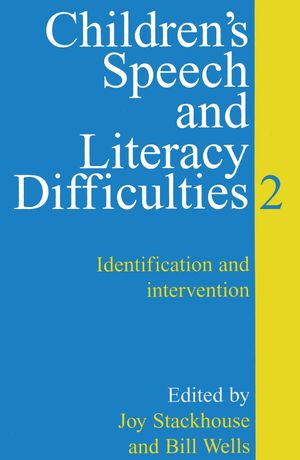 Children's Speech and Literacy Difficulties: Identification and Intervention, Book 2
ISBN: 978-1-861-56131-2 October 2000 468 Pages
Description
This book develops the ideas presented in Children's Speech and Literacy Difficulties Book I: A Psycholinguistic Framework by focussing on how the information gathered within a psycholinguistic framework can be used to plan intervention for children with speech, wordfinding and phonological awareness problems. It illustrates how the psycholinguistic approach has been implemented in different contexts and with different cases through a series of practical activities and discussion of current research relevant to practice.
Table of contents
Identifying Children at Risk for Literacy Problems, Joy Stackhouse.
Principles of Psycholinguistic Intervention, Rachel Rees.
What do Tasks Really tap?, Rachel Rees.
From Profile to Programme - Steps 1 and 2, Juliette Corrin.
From Profile to Programme - Steps 3-6, Juliette Corrin.
Using Input Processing strengths to Overcome Speech Output Difficulties, Daphne Waters.
Electropalatography - A Tool for Psycholinguistic Therapy, Hilary Dent.
Designing a Literacy Programme for a Child With a History of Speech Difficulties, Liz Nathan and Sarah Simpson.
Working Together - The Psycholinguistic Approach Within a School Setting, Jill Popple and Wendy Wellington.
A Psycholinguistic Approach to Word-finding Difficulties, Alison Constable.
Intonation Within a Psycholinguistic Framework, Bill Wells and Sue Peppe.
Identification and Intervention - Future Directions, Joy Stackhouse and Bill Wells.