Children and Trauma: A Guide for Parents and Professionals, Revised Edition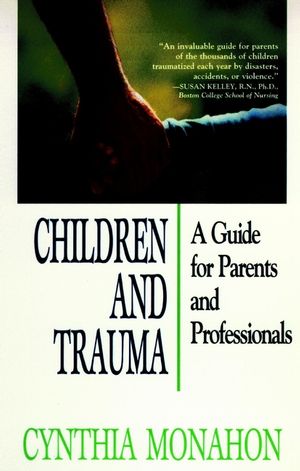 Children and Trauma: A Guide for Parents and Professionals, Revised Edition
ISBN: 978-0-787-91071-6 August 1997 Jossey-Bass 240 Pages
Description
Childhood traumas range widely in their severity and impact. A car accident, an earthquake or flood, being attacked by a dog, undergoing a frightening medical treatment?all are distinctly different events yet all provoke common symptoms of psychological trauma. These symptoms may include fearfulness, nightmares, and dramatic behavioral or personality changes. And parental anxiety over changes in a child can, in turn, complicate the healing process.

Children and Trauma teaches parents and professionals about the effects of such ordeals on children and offers a blueprint for restoring a child's sense of safety and balance. Cynthia Monahon, a child psychologist who specializes in the treatment of psychological trauma, offers hope and reassurance for parents. She suggests straightforward ways to help kids through tough times, and also describes in detail the warning signs that indicate a child needs professional help. Monahon helps adults understand psychological trauma from a child's point of view and explores the ways both parents and professionals can help children heal.
Table of contents
Understanding the Experience of Trauma for a Child.

Sources of Childhood Trauma.

The Signs of Psychological Trauma.

Factors Influencing Children's Reactions to Trauma.

Trauma in the Family: Reactions to Trauma.

The Healing Process: How Parents Can Help Their Child.

Complications of Trauma;
When Professional Help is Needed.

Psychotherapy for Psychologically Traumatized Children.

Afterword: Living With the Memeories.
Reviews
"An invaluable guide for parents of the thousands of children traumatized each year by disasters, accidents, or violence." --Susan Kelley, R.N., Ph.D., Boston College School of Nursing

"Parents reading this sensitive, comprehensive book will be well nourished . . . wrapped in a warm comforter, soothed, educated, and given the hope and practical advice they need to help their children and themselves cope with traumatizing experiences. Professionals will treasure this book." --Beverly James, author, Treating Traumatized Children

"A practical, comprehensive, and authoritative guidebook. An essential reference for parents of traumatized children." --Charles Schaefer, Ph.D., cofounder, Association for Play Therapy

"Cynthia Monahon has written a clear and comprehensive guide to understanding the emotional aftermath of childhood crises. This book is a must read for parents and other caregivers who live or work with children." --Marlene A. Young, Ph.D., J.D., executive director, National Organization for Victim Assistance