Children in Changing Families: Life After Parental Separation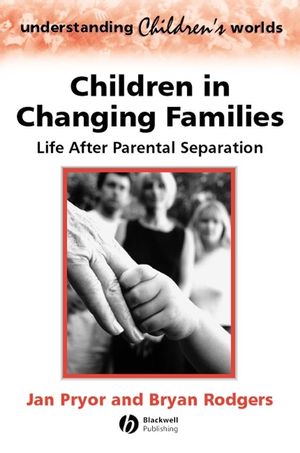 Children in Changing Families: Life After Parental Separation
ISBN: 978-0-631-21576-9 October 2001 Wiley-Blackwell 344 Pages
Description
At time when separation and divorce are increasingly common, this book supplies much-needed insights into why some children survive change in families better than others.
List of Figures and Tables.
Series Editor's Preface.
Acknowledgments.
Glossary of Studies Frequently Referred to in the Book.
Introduction.
1. The Context of Family Transitions.
2. Frameworks for Understanding Family Transitions.
3. Family Transitions and Outcomes for Children.
4. Children's Perceptions of Families and Family Change.
5. Families that Separate.
6. Stepfamilies and Multiple Transitions.
7. Fathers in Families.
8. Explaining Outcomes for Children and Young People.
9. Overview and Future Direction.
References.
Index.
Children in Changing Families is a remarkable and much-needed book. Jan Pryor and Bryan Rodgers' international perspective is unparalleled, including a broad overview of demographic trends and comprehensive coverage of research on children in changing families from throughout the English-speaking world. This book is indispensable reading for academics, practitioners, and students from a variety of disciplines.
Robert E. Emery, Director of the Center for Children, Families, and the Law, University of Virginia

Children in Changing Families: Life After Parental Separation is a remarkable achievement. Spanning studies conducted in the United States, England, Australia, and New Zealand, this book provides a comprehensive and integrated overview of research on parental divorce, parental remarriage, and children's lives. Because this book is both authoritative and clearly written, it will be valuable not only to family scholars, but also to students, counselors, educators, legal professionals, and policy makers. Although our understanding of these phenomena continues to grow, Jan Pryor and Bryan Rodgers have written the best book yet about the linkages between family structure, family process, and children's well-being. Paul Amato, Pennsylvania State University

It has long been clear that parental divorce and other major family change upsets children, but the severity of such effects and the possibility of longer term consequences has been clouded by evidence that has often seemed contradictory and has been open to misinterpretation. At last we have a clear, authoritative, critical but even handed appraisal of the field. Jan Pryor and Bryan Rodgers' landmark account of the evidence will become the standard reference for practitioners, policy makers, researchers and, indeed, parents. Their book charts the impact of family change on the emotional, behavioural and educational development of children and young people against the relevant demographic and legal backgrounds. The authors draw on research from the UK, Australia, New Zealand and North America and bring it together in a remarkably comprehensive and readable account. Martin Richards, University of Cambridge

"Pryor and Rodgers cover a broad overview of international demographic trends and a wide range of empirical research on the impact of changing family structures on children.

Although not a "law book", it is very accessible; the empirical findings, where presented as tables, are clear and intelligible and where necessary are supported by explanatory text. They outline some of the major theoretical and conceptual frameworks currently used to discuss family change. These are applied later when the authors discuss the research evidence. In the final chapter the authors draw their conclusions for both policy and practice, highlighting where, in their opinion, further research is needed. The book keeps its well-organised structure of nine broadly headed chapters, each of which is further subdivided by clear subheadings.

Family lawyers eaxmining law in context, rather than in a social vacuum, should find this book thought-provoking. Perhaps a dissemination of such information between different professionals will even help to develop a better approach to dealing with children in changing families." Joanne Beswick, Research Associate, Staffordshire University. Family Law, December 2001, Vol. 31

"This major contribution to the literature on the impact of separation and divorce on children is highly recommended". D.A. Chekki, University of Winnipeg, Choice, April 2002

"The book is an essential text for all professionals whose work brings them into contact with families where parents are anticipating, going through or managing the consequences of separation and divorce. Building on their 1998 review of UK research, Jan Pryor and Bryan Rodgers bring together additional research from North America, Australia and New Zealand to provide the reader with a comprehensive overview of research findings that account for why some children survive family reconstitution and breakdown better than others." Christopher Vincent, Tavistock Marital Studies Institute (London), Child & Adolescent Mental Health, November 2002

"I see this volume as making a sound contribution to the current literature on children and divorce. In fact, it would be good required reading in a graduate course on changing families or family diversity, in part because of its inclusiveness in topics covered, and especially because of the strong emphasis on studies beyond the U.S. borders." Kay Pasley, University of North Carolina - Greensboro, Journal of Marriage and Family, February 2003


Covers research across North America, the UK, Australia and New Zealand.


Examines different types of changes in families.


Pays attention to children's own perceptions of family change.


Provides research-based evidence to inform the debate over the role of fathers in children's lives.