Children with Disabilities: A Longitudinal Study of Child Development and Parent Well-being, Volume 66, Number 3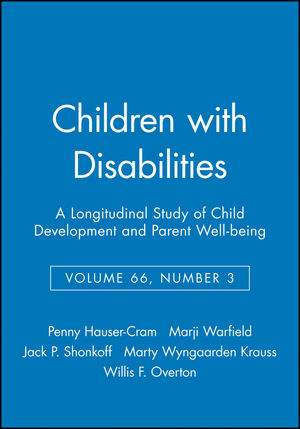 Children with Disabilities: A Longitudinal Study of Child Development and Parent Well-being, Volume 66, Number 3
ISBN: 978-0-631-23475-3
Nov 2001, Wiley-Blackwell
300 pages
Description
This Monograph presents a longitudinal investigation of child development and family well-being during the first decade of life for children with Down syndrome, motor impairment, or developmental delay of uncertain etiology. The findings suggest that changes in selected policies and practices can improve outcomes for children with disabilities and their parents
Abstract.
Part I: Introduction.
Part II: The Development of Children with Disabilities and the Adaptation of their Parents: Theoretical Perspectives and Empirical Evidence.
Part III: The Early Intervention Collaborative Study: Study Design and Methodology.
Part IV: Results: Predictors of Functioning and Change in Children's Development and Parent Well-being.
Part V: Discussion.
Part VI: Implications for Research, Policy, and Practice References.
Acknowledgments.
Commentary.
Authors and Contributors.
Statement of Editorial Policy


Investigates child development and family well-being during the first decade of life for children with Down syndrome, motor impairment, or developmental delay.


It was found that, although the child's type of disability predicts some features of development, the child's motivation and the quality of relationships are consistent predictors of the development of cognitive, social, communication, and daily living skills.


Both mothers and fathers report increasing levels of stress as their children grow older. The child's behavior problems are a consistent predictor of these increases, but the parent's abilities to problem-solve and garner support are ameliorating factors.