China's Emerging Financial Markets: Challenges and Global Impact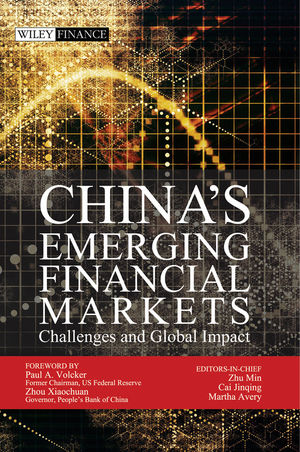 China's Emerging Financial Markets: Challenges and Global Impact
ISBN: 978-1-118-17902-4 December 2011 400 Pages
Description
"The 19th century belonged to England, the 20th century belonged to the US and the 21st century belongs to China. Invest accordingly."
Warren Buffet

This comprehensive resource presents the views of China's most highly respected economists, bankers, and policy makers--along with opinions from Western authorities--on the current state of banking and finance in China. Tracing the history of China's banking and finance system and looking toward its future, the book offers valuable insight for financial service providers, bankers, private equity and hedge fund managers, and equity research and credit analysts.

Contributors to the book includes:
Jamie Dimon — Chairman & CEO, JPMorgan Chase Bank
Guo Shuqing — Chairman, China Construction Bank
Paul Volcker — Former Chairman, U.S. Federal Reserve
Stephen S. Roach — Chairman, Morgan Stanley Asia
Wang Dongming — Chairman, CITIC Securities Co., Ltd; and many more!
Acknowledgments ix
Preface xi
Paul A. Volcker
Introduction xiii
Zhou Xiaochuan
Overview xxiii
Zhu Min
Biographies lix
SECTION 1 MACRO 1
Chapter 1 Fundamental Issues and Challenges Facing the Chinese Economy
Guo Shuqing 3
Chapter 2 China's Global Challenge
Stephen S. Roach 19
Chapter 3 China's High Savings, Investment, and Growth Rates, and Arguments for the Rapid Development of Financial Markets
Li Yang 35
Chapter 4 The Evolution of Banking and Finance in China: Domestic and International Aspects
Pieter Bottelier 53
SECTION 2 BANKING 71
Chapter 5 China's Banking Industry: Moving Forward in Accord with Reform and Opening
Wang Zhaoxing 73
Chapter 6 China's Financial Transformation and New Challenges
Stephen K. Green 91
Chapter 7 Commercial Banking Reform
Wang Jianxi 107
Chapter 8 China's Restructured Commercial Banks: Nomenklatura Accountability Serving Corporate Governance Reform?
Nicholas Calcina Howson 123
Chapter 9 Prospects for Chinese Banks: Why Global Banks Are Drawn To China
Jamie Dimon 165
Chapter 10 Agricultural Financing in China: the Difficult Transition from a Planned to a Market System
Chen Xiwen 181
Chapter 11 Retail Banking: Mastering Wealth Management to Capture Growth Opportunities
Hans-Paul Buerkner 203
Chapter 12 Growing China's Retail Banking Business
Ma Weihua 217
SECTION 3 CAPITAL MARKETS 235
Chapter 13 Shanghai Stock Exchange: History and Prospects
Zhou Qinye 237
Chapter 14 China's Securities Companies: Growth and Prospects
Wang Dongming 251
Chapter 15 China's Emerging Financial Markets: Challenges and Global Impact
Kevan Watts 263
Chapter 16 China's Capital Markets
Qi Bin 283
Chapter 17 Opening, Reforming, and Growing China's Bond Markets
Lin Yixiang 307
Chapter 18 China's Asset Management Industry
Fan Yonghong 329
Chapter 19 Venture Capital/Private Equity in China
John S. Wadsworth, Jr and Wu Shangzhi 343
SECTION 4 INSURANCE 361
Chapter 20 China's Insurance Markets: Reform, Growth, and Prospects
Yuan Li 363
Chapter 21 Strategy of China's Largest Life Insurance Company, China Life
Yang Chao 373
Chapter 22 The Emergence of China's Insurance Industry
Wu Yan 383
Chapter 23 China's Insurance Market
Jacques Kemp 397
Chapter 24 China's Social Security System: Issues and Prospects
Gao Xiqing 417
SECTION 5 MONETARY POLICY 431
Chapter 25 China's Monetary Policy: Facing the Challenges of Financial Globalization
Wu Xiaoling 433
Chapter 26 Convertibility of RMB-denominated Capital Accounts: Process and Experience
Hu Xiaolian 449
Chapter 27 China's Money, Bond, and FX Markets
Xie Duo 459
Chapter 28 Financial Futures Markets in China
Zhu Yuchen 481
Chapter 29 China's New Currency Regime and Onshore FX Markets
Stephen Green 491
SECTION 6 SERVICES 513
Chapter 30 China's Legal System and the Financial Industry: The Past 30 Years
Wu Zhipan 515
Chapter 31 Legal Services in the Field of Banking and Finance
Xiao Wei 529
Chapter 32 The Accounting Profession in China: Review and Outlook
James Turley 545
Chapter 33 China's Taxation and the Financial Industries
Xu Shanda 569
Index 583
"
This is almost certainly the best survey of official views on China's financial overhauls published in English
… 
…This collection is a good bookshelf companion for bankers and investors actively participating in China's markets. It's also a handy cheat sheet for those who have an upcoming meeting with Chinese officials and want to understand their views." 
– Rick Carew, Reporter for Wall Street Journal