China and Russia: The New Rapprochement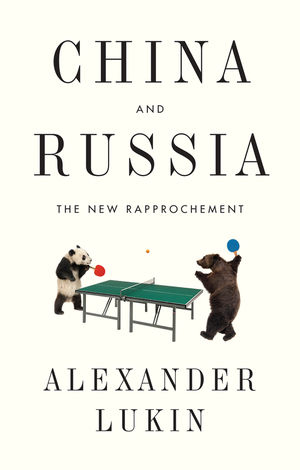 China and Russia: The New Rapprochement
ISBN: 978-1-509-52174-6 March 2018 Polity 272 Pages
Description
With many predicting the end of US hegemony, Russia and China's growing cooperation in a number of key strategic areas looks set to have a major impact on global power dynamics. But what lies behind this Sino-Russian rapprochement? Is it simply the result of deteriorated Russo–US and Sino–US relations or does it date back to a more fundamental alignment of interests after the Cold War?

In this book Alexander Lukin answers these questions, offering a deeply informed and nuanced assessment of Russia and China's ever-closer ties. Tracing the evolution of this partnership from the 1990s to the present day, he shows how economic and geopolitical interests drove the two countries together in spite of political and cultural differences. Key areas of cooperation and possible conflict are explored, from bilateral trade and investment to immigration and security. Ultimately, Lukin argues that China and Russia's strategic partnership is part of a growing system of cooperation in the non-Western world, which has also seen the emergence of a new political community: Greater Eurasia. His vision of the new China–Russia rapprochement will be essential reading for anyone interested in understanding this evolving partnership and the way in which it is altering the contemporary geopolitical landscape.
Table of contents
Contents
Acknowledgements
About the author
Foreword
Chapter 1. Russia, China and the changing international system
Chapter 2. Russia in the eyes of China
Chapter 3. Russia's pivot to Asia or China? Chinese views of Russia
Chapter 4. From normalization to strategic partnership
Chapter 5. The strategic partnership matures: multidimensional cooperation
Conclusions. Beyond Strategic Partnership? Managing relations in an insecure world
Reviews
"This is a phenomenal study of the Russia-China rapprochement in the post-Cold War world. It provides an insider's perspective based on reliable empirical and documentary accounts, and combines 'what is' with what the author thinks 'should be."
Wang Jisi, Institute of International and Strategic Studies at Peking University
"Lukin is one of the most perceptive, original and theoretically sophisticated analysts of the current shifts in world politics. This study is an invaluable addition to the literature, defining Russian-Chinese relations as part of the emergence of a counter-weight to the West. This is a powerful and convincing interpretation, and is essential reading for anyone trying to make sense of international politics today."
Richard Sakwa, University of Kent

"In
China and Russia: The New Rapprochement
, Alexander Lukin dismisses the growing power gap between Russia and China and portrays the relationship as pragmatic and shaped by what he sees as objective developments in global politics. Lukin prioritizes geopolitical and strategic aspects, while considering other dimensions of the relationship, including the economic one, as secondary."
The China Quarterly
"A timely and interesting book... highly informative."
Changing Character of War Centre
"Alexander Lukin has usefully and with clarity encapsulated the prevailing Russian perspective on the Sino-Russian relationship. Readers will find much of interest in his chapters."
The China Journal
"A highly informative book packed with interesting information…Lukin's sources and analysis are very good and his knowledge of China is most impressive. He is particularly good at identifying the most important features of every field of the Russo-Chinese relations. The chapters covering political, military, economic and energy issues are particularly good. The author's conclusions after every chapter are also excellent and are likely to be used by many governments and business."
CWC Russia Brief