China in the Twentieth Century, 2nd Edition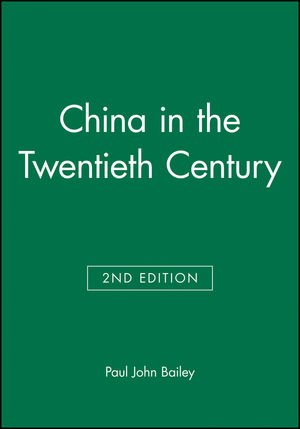 China in the Twentieth Century, 2nd Edition
ISBN: 978-0-631-20328-5
Oct 2001
296 pages
Description
This overview of twentieth-century history in China tells the story of a fascinating country undergoing political revolutions and social and cultural upheaval.
Author's Note.
Maps.
Introduction.
1. The End of the Imperial Monarchy.
2. The Early Republic.
3. The Rise of the Guomindang and the Chinese Communist Party.
4. The War of Resistance against Japan.
5. The New Communist Government.
6. Mao's Road to Socialism.
7. The Post-Maoist Order.
Conclusion.
Glossary of Chinese Terms.
Bibliography.
Index.
"A thoroughly competent study ... the glossary of Chinese terms is especially useful..."
Asian Studies Review
<!--end-->
"In Bailey's account of china's major political milestones in the twentieth century, the selection of facts and his generalisations are sound and convincing. The book's greatest strength lies in the strategy of presentation [and is] a refreshing departure from the omniscient viewpoint and mononarrative of many texts. The author has accomplished a great deal here... this book deserves very serious consideration for undergraduate and graduate courses." Craig Dietrich, University of Southern Maine, Portland, USA


Introduces China's turbulent twentieth-century history


Explores the nature and significance of the major transformations China in the twentieth century


Analyses the historiographical debates and interpretations that underpin recent histories of China


Focuses on political, social and cultural changes