Chinese Philosophy in Excavated Early Texts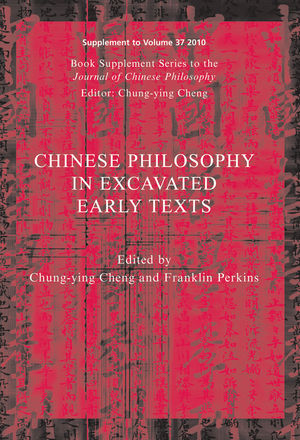 Chinese Philosophy in Excavated Early Texts
ISBN: 978-1-444-34989-4
Jan 2011, Wiley-Blackwell
164 pages
Description
T

he nine papers

of this Supplement on these significant issues and important ideas are

closely accentuated

and

critically

discussed by well-established specialists, philosophers and historians,

from various relevant disciplines of study.
Introduction: Chinese Philosophy in Excavated Early Texts (CHUNG-YING CHENG).
The Tsinghua: Bamboo Strips and Ancient Chinese Civilization (LI XUEQIN AND LIU GUOZHONG).
Recontextualizing Xing: Self-Cultivation and Human Nature in the Guodian Texts (FRANKLIN PERKINS)
The Guodian Bamboo Slips and Confucian Theories of Human Nature (CHEN LAI).
Theodicies of Discontinuity: Domesticating Energies and Dispositions in Early China (MICHAEL PUETT)
Abdication and Utopian Vision in the Bamboo Slip Manuscript, Rongchengshi (SARAH ALLAN).
Returning to "Zisi": The Confucian Theory of the Lineage of the Way (LIANG TAO).
"San De" and Warring States Views on Heavenly Retribution (SCOTT COOK).
Divination and Autonomy: New Perspectives from Excavated Texts (LISA RAPHALS).
On Internal Onto-Genesis of Virtuous Actions in the Wu Xing Pian (CHUNG-YING CHENG).