Chomsky: Language, Mind, and Politics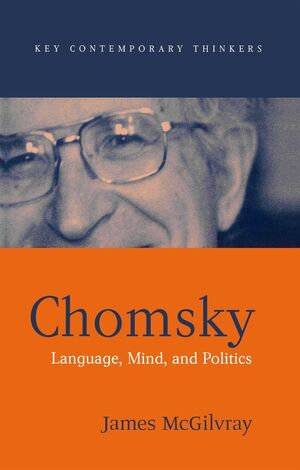 Chomsky: Language, Mind, and Politics
ISBN: 978-0-745-61888-3
Oct 1999, Polity
288 pages
Description
The key to Chomsky's overall intellectual project lies in what he has to say about a biologically based human nature.
Abbreviations.
Acknowledgments.
Introduction.
1. Common Sense and Science.
2. Mapping the Mind.
3. Poverty, Creativity, and Making the World.
4. Languages and the Science of Language.
5. How to Make an Expression.
6. Meanings and Their Use.
7. Anarchosyndicalism and the Responsible Intellectual.
8. Human Nature and Ideal Social Organization.
Notes.
References.
Index.
'This is the best all around introduction to Chomsky's work that I know of. However, it is far more than an introduction. It is an ambitious synthesis of all parts of Chomsky's views written in a manner accessible to a beginner yet thought provoking for those deeply immersed in Chomskyana. It considers Chomsky's work in the wider context of cultural and classical philosophical views on human nature, knowledge and mind. In addition, McGilvray shuns no part of Chomsky's vast work. He provides accessible and illuminating discussions of both his theoretical work in grammar, his philosophical views on the structure of mind and his political views. I recommend McGilvray's work both to neophytes interested in an introduction to Chomsky's thought and to experts interested in an illuminating discussion of "how it all hangs together".'
Professor Norbert Hornstein, University of Maryland

'This well written and insightful book explains accurately Chomsky's ideas about mind, language, and social ideas. Its presentation of key concepts is accessible to laypersons and is informative to the experts as well. Chomsky's key contributions to philosophy and the social sciences are well articulated. The book should be read by the general public, and all philosophers and social scientists.' Professor Julius Moravcsik, Department of Philosophy, University of Stanford
* A clear and comprehensive introduction to Chomsky's work, dealing with his contributions to linguistics, philosophy, social and political thought.
* Describes Chomsky's rationalist view of mind and human nature in a more systematic way than Chomsky himself has and investigates why this view is the most plausible one.