Christian Ethics: A Brief History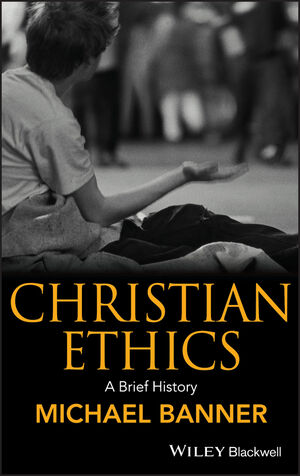 Christian Ethics: A Brief History
ISBN: 978-1-405-11517-9
Apr 2009, Wiley-Blackwell
160 pages
Description
This enlightening book steers readers through the challenges and moral issues, providing a clear and decisive history of the main figures and texts in Christian ethics.

A short and lively history of Christian ethics, exploring how Christianity has always had to grapple with complex moral problems - from questions about the status of early Christians who renounced their religion under Roman torture, through to current debates about euthanasia

Engages with the main texts and figures in Christian ethics, including Augustine, Benedict, Aquinas, Luther and Barth

Considers questions such as human will, the proper form of Christian life, natural law, and whether human nature is at odds with Christian ethics

Concludes with a thought-provoking chapter considering the role that Christian ethics can play in contemporary moral debates and ethical dilemmas
Preface.
Introduction.
1. Benedict and the Practice of Christian Life.
2. Augustine, God and Human Nature: The Theory of the Christian Life.
3. Thomas Aquinas: The Natural Law and the Loss of christian Ethics.
4. Martin Luther: Against Ethics.
5. Butler, Kant and Kierkegaard: The Turn tot he Subject.
6. Nietzsche and the Genealogists: Suspecting the Subject.
7. Barth and John Paul II: The Rediscovery of Christian Ethics.
8. History in the Present: Genetics, Ethics and Christian Life.
Bibliography
One might expect such a history to begin with the Bible, but Banner starts with a small work from the early Church: the Rule of St. Benedict (550 C.E.), which he claims is the paradigmatic framework with which to understand Christian ethics. . . Although Banner states that he does not intend to defend Christianity, his positive opinion of it emerges (which is not of itself a short-coming)." (Philosophy in Review, August 2010)
"As the title of the present volume indicates, the aim of the book is to provide a brief history of Christian ethics. The author does this by engaging with key figures and their thought, including Augustine, Thomas Aquinas, and Martin Luther, which allows him to draw out the challenges to Christian ethics, which Nietzsche and other nineteenth-century thinkers as well as contemporary relativism have presented." (
Journal of Contemporary Religion
, May 2010)
"This book is part of a series that aims to present 'brief, accessible, and lively accounts of key topics within theology and religion.' This history of Christian ethics succeeds in all three aims." (CHOICE, October 2009)
A short and lively history of Christian ethics, exploring how Christianity has always had to grapple with complex moral problems - from questions about the status of early Christians who renounced their religion under Roman torture, through to current debates about euthanasia
Engages with the main texts and figures in Christian ethics, including Augustine, Benedict, Aquinas, Luther and Barth
Considers questions such as human will, the proper form of Christian life, natural law, and whether human nature is at odds with Christian ethics
Concludes with a thought-provoking chapter considering the role that Christian ethics can play in contemporary moral debates and ethical dilemmas