Christian Mission: How Christianity Became a World Religion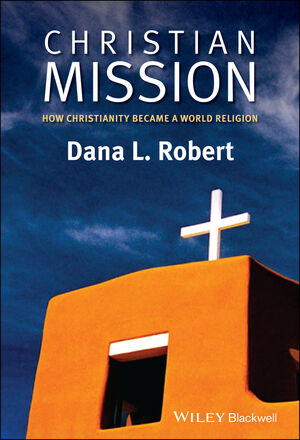 Christian Mission: How Christianity Became a World Religion
ISBN: 978-0-631-23620-7 March 2009 Wiley-Blackwell 232 Pages
Description
Exploring how Christianity became a world religion, this brief history examines Christian missions and their relationship to the current globalization of Christianity.
A short and enlightening history of Christian missions: a phenomenon that many say reflects the single most important intercultural movement over a sustained period of human history
Offers a thematic overview that takes into account the political, cultural, social, and theological issues
Discusses the significance of missions to the globalization of Christianity, and broadens our understanding of Christianity as a multicultural world religion
Helps Western audiences understand the meaning of mission as a historical process
Contains several new maps that illustrate demographic shifts in world Christianity
Buy Both and Save 25%!
Original Price:$66.90
Purchased together:$50.18
save $16.72
Cannot be combined with any other offers.
Buy Both and Save 25%!
This item: Christian Mission: How Christianity Became a World Religion
Paul: A Brief History (Paperback $41.95)
Original Price:$73.90
Purchased together:$55.43
save $18.47
Cannot be combined with any other offers.
List of Illustrations.
Acknowledgments.
Introduction.
Part I: The Making of a World Religion: Christian Mission through the Ages:.
1. From Christ to Christendom.
From Jerusalem into "All the World".
The Creation of Catholic Europe, 400–1400.
2. Vernaculars and Volunteers, 1450–.
Bible Translation and the Roots of Modern Missions.
The Revitalization of Catholic Missions.
The Beginnings of Protestant Missions.
Voluntarism and Mission.
Protestant Missionary Activities in the Nineteenth Century.
3. Global Networking for the Nations, 1910–.
The Growth of Global Networks.
International Awakenings.
Awakening Internationalism.
Post-Colonial Rejection of Christian Mission.
Africans, Asians, and Latin Americans in Mission.
Part II: Themes in Mission History:.
4. The Politics of Missions: Empire, Human Rights, and Land.
Critiques of Missions.
Missionaries and Human Rights.
Missionaries and the Land.
Missions and Ecology.
5. Women in World Mission: Purity, Motherhood, and Women's Well-Being.
Women as Missionaries.
Purity and Gender Neutrality.
The Mission of Motherhood.
Women's Well-Being and Social Change.
6. Conversion and Christian Community: The Missionary from St. Patrick to Bernard Mizeki.
Who Was St. Patrick?.
Bernard Mizeki, "Apostle to the Shona".
Missionaries and the Formation of Communal Christian Identities.
7. Postscript: Multicultural Missions in Global Context.
Bibliography.
Index
"Despite these concerns, Christian Mission is a valuable addition to the growing literature on world Christianity . . . our overall understanding of Christianity as a world religion is significantly increased by Robert's work." (Christian Century, 8 March 2011)
"Robert's book, by drawing on more recent scholarship incorporates a global view and puts world Christianity at the center of the narrative, where it belongs, This re-writing" of the history of Christian missions has just begun and likely will occupy scholars for years to come." (Church History, June 2010)"This work is a valuable contribution to the subject." (CHOICE, December 2009)"Roberts helpfully reminds the readers that this...must be understood by accounting for the various players and settings in which it unfolds: "It is important to study the spiders, but it is equally important to notice the web" (177).Christian Mission, appropriate as a college or graduate level text, is a commendable introduction to those seeking to make sense of this tangled web." (Missology, 2010)"[This book] does a lot of things (including a chronological and thematic study of 2000 years of Christian mission!). Along the way, Robert points out that Christian missionaries have done much good for the societies they have entered." (The Gospel Coalition, January 2010)
"A masterful survey of mission in Christian history from the very origins of the religion to the present. … It should be required reading for any undergraduate course on Christianity or world religions." (International Bulletin of Missionary Research, October 2009)
"Robert unerringly focuses on the most important issues. She is especially good on the persistence of gender issues in mission history." (Christian Century, October 2009)


A short and enlightening history of Christian mission: a phenomenon that many say reflects the single most important intercultural movement over a sustained period of human history

Offers a thematic overview that takes into account the political, cultural, social, and theological issues

Discusses the significance of missions to the globalization of Christianity, and broadens our understanding of Christianity as a multicultural world religion

Helps Western audiences understand the meaning of mission as a historical process

Contains several new maps that illustrate demographic shifts in world Christianity