Christian Theology: An Introduction, 5th Edition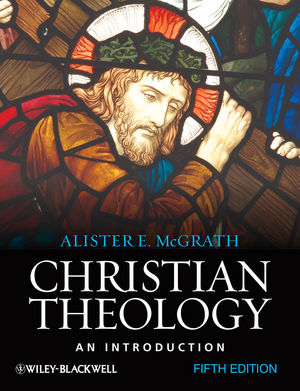 Christian Theology: An Introduction, 5th Edition
ISBN: 978-1-444-39770-3
Jan 2011, Wiley-Blackwell
536 pages
Description
Alister McGrath's Christian Theology: An Introduction is one of the most internationally-acclaimed and popular Christian theology textbooks in use today. This 5th edition has been completely revised, and now features new and extended material, numerous additional illustrations, and companion resources, ensuring it retains its reputation as the ideal introduction to Christian theology.
Fully updated 5th edition of the bestselling textbook, incorporating expanded material, numerous student features and new illustrations
Features new sections on Copernicanism and Darwinism
Includes extended discussions of Augustine's doctrine of creation, Trinitarian theologies of religion, and the relation of Christianity to other faiths
May be used as a stand-alone volume, or alongside the Christian Theology Reader, 4th edition for a complete overview of the subject
Retains the chapter structure of the 4th edition, ensuring comparability with earlier editions and courses based on these
Accompanied by a revised instructor's website featuring expanded resources including study questions and answers; visit www.wiley.com/go/mcgrath for more details and to register for access
List of Illustrations.
Preface.
To the Student: How to Use this Book.
To the Teacher: How to Use this Book.
Acknowledgments.
PART I LANDMARKS: PERIODS, THEMES, AND PERSONALITIES OF CHRISTIAN THEOLOGY.
Introduction.
1 The Patristic Period, c.100–c.700.
2 The Middle Ages and the Renaissance, c.700–c.1500.
3 The Age of Reformation, c.1500–c.1750.
4 The Modern Period, c.1750 to the Present.
PART II SOURCES AND METHODS.
5 Getting Started: Preliminaries.
6 The Sources of Theology.
7 Knowledge of God: Natural and Revealed.
8 Philosophy and Theology: Dialogue and Debate.
PART III CHRISTIAN THEOLOGY.
9 The Doctrine of God.
10 The Doctrine of the Trinity.
11 The Doctrine of the Person of Christ.
12 Faith and History: The Christological Agenda of Modernity.
13 The Doctrine of Salvation in Christ.
14 The Doctrines of Human Nature, Sin, and Grace.
15 The Doctrine of the Church.
16 The Doctrine of the Sacraments.
17 Christianity and the World Religions.
18 The Last Things: The Christian Hope.
A Glossary of Theological Terms.
Sources of Citations.
Acknowledgments of Figures.
Index.
The revised 5
th
edition includes:
Entirely new sections exploring Copernicanism and Darwinism
Extended discussions of Augustine's doctrine of creation, Trinitarian theologies of religion, and the relation of Christianity to other faiths
A number of additional illustrations and student features throughout
An extensively revised website available on publication at www.wiley.com/go/mcgrath, featuring new student resources such as study questions and additional lectures from Alister McGrath
The revised 5th edition of the bestselling textbook, now completely up-to-date with expanded material, and packed throughout with student features and new illustrations
Features new sections on Copernicanism and Darwinism
Includes extended discussions of Augustine's doctrine of creation, Trinitarian theologies of religion, and the relation of Christianity to other faiths
May be used as a stand-along volume, or alongside the Christian Theology Reader, 4th edition for a complete overview of the subject
Retains the chapter structure of the 4th edition, ensuring compatability with earlier editions and courses based on these
Accompanied by a revised instructor's website, available on publication, featuring expanded resources including study questions and answers; visit www.wiley.com/go/mcgrath for more details and to register for access