Christian Wisdom of the Jedi Masters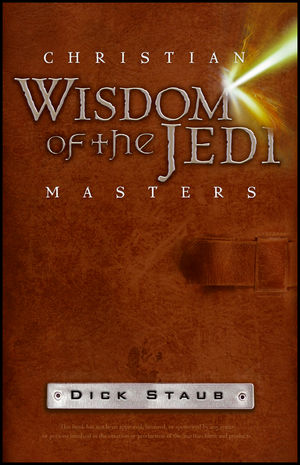 Christian Wisdom of the Jedi Masters
ISBN: 978-1-118-42574-9
Mar 2005, Jossey-Bass
336 pages
Description
Written by award-winning radio personality Dick Staub, this compelling book is filled with anecdotes from the Star Wars films that serve as a launching pad into rediscovering authentic Christianity. Christian Wisdom of the Jedi Masters also contains quotes from revered "Jedi Christians" such as Thomas Merton, Teresa of Avila, the Apostle Paul, G. K. Chesterton, and other theologians, mystics, writers, and philosophers. The author sheds new light on the struggles and challenges of living faithfully in postmodern life and offers a reintroduction to what C. S. Lewis and J. R. R. Tolkien called the "one true myth," Christianity.
Acknowledgments.
Introduction.
PART ONE: THE LORD OF THE FORCE.
Chapter 1: Lord of the Force.
Chapter 2: The Lost Sayings.
PART TWO: SEEKING.
Chapter 3: Believe.
Chapter 4: "Do. Or Do Not. There Is No Try."
Chapter 5: Wake Up. Be Healed. Be Saved.
Chapter 6: Seek First.
Chapter 7: Will One Thing.
Chapter 8: The Seeker Is Sought.
PART THREE: KNOWING.
Chapter 9: Enter the Cloud of Unknowing.
Chapter 10: Don't Miss the Big Reveal.
Chapter 11: Meditate.
Chapter 12: Go Deep in a Shallow Age.
Chapter 13: Aim High and Let Grace Fill the Gap.
Chapter 14: Trust the Lord of the Force.
Chapter 15: Know and Love the Word.
Chapter 16: Obey the Word.
Chapter 17: Believe to See.
Chapter 18: The Lord of the Force You Are Not.
PART FOUR: FIGHTING.
Chapter 19: Changed.
Chapter 20: "Always Two There Are, a Master and an Apprentice".
Chapter 21: Renounce the Dark Side.
Chapter 22: Prepare for War, Live for Peace.
Chapter 23: These Weapons Are Your Life.
Chapter 24: Use All Your Weapons.
Chapter 25: Be Strong! The Battle Is the Lord's!
Chapter 26: Receive the Power.
Chapter 27: Power in the Blood.
Chapter 28: Flee the Dark Path.
Chapter 29: Love Your Father.
PART FIVE: SERVING.
Chapter 30: Make Your Masterpiece by Living It.
Chapter 31: Loving, Transforming Presence.
Chapter 32: Counter Culture Like an Alien.
Chapter 33: Better World, Better Way.
Chapter 34: Preserve, Repair, and Make Beautiful.
Chapter 35: Live Simply, Pack Light, Hold Loose.
Chapter 36: The Least of These.
Chapter 37: Pursue God in the Company of Friends.
Chapter 38: Forgive, Forgive, and Again Forgive.
Chapter 39: In Age Is Opportunity.
Chapter 40: Another Chance.
Chapter 41: Touch the Sky.
Notes.
The Author.