Christianity For Dummies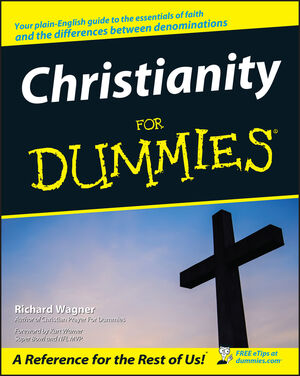 Christianity For Dummies
ISBN: 978-1-118-06901-1
Apr 2011
412 pages
Description
Get to know the beliefs and practices inspired by Jesus Christ

Discover what it means to be a Christian and follow the gospel

Curious about Christianity? This friendly guide helps you understand the basic teachings of the Christian faith, exploring the common ground that all Christians share, the differences among the major branches, the key events in Christian history, the key theological issues, and the many ways Christians live out their faith in today's world.

The Dummies Way
* Explanations in plain English
* ""Get in, get out"" information
* Icons and other navigational aids
* Tear-out cheat sheet
* Top ten lists
* A dash of humor and fun

Discover how to:
* Express the core essentials of Christianity
* Appreciate the life and teachings of Jesus
* Understand why the Bible is central to the faith
* Respect the unique roles of the Trinity
* Explore controversial issues among the branches
Foreword.
Introduction.
Part I: Uncovering What Christianity's All About.
Chapter 1: Good News in a Bad News World.
Chapter 2: Christianity: But Is It True?
Chapter 3: That Amazing Stuff Called Grace.
Part II: Exploring the Basic Principles of the Christian Faith.
Chapter 4: Sin: Why "Do's and Don'ts" Miss the Bigger Picture.
Chapter 5: Jesus Christ: His Life, Ministry, and Radical Claims.
Chapter 6: Peeking Inside God's Diary: The Bible.
Chapter 7: The Trinity: How 1+1+1 Equals 1.
Chapter 8: The Rite Stuff: Sacraments, Ordinances, and the Christian Faith.
Chapter 9: Heading for Home: The End Game.
Part III: Here's the Church, Here's the Steeple: Peeking into the Christian Church.
Chapter 10: Tradition, Tradition: The Catholic and Orthodox Churches.
Chapter 11: Back to the Basics: The Protestant Church.
Chapter 12: Making Sense of Worship.
Part IV: Christian Living in a Postmodern World.
Chapter 13: I'm a Christian — Now What?
Chapter 14: Being in the World but Not of It.
Chapter 15: Tackling Thorny Issues in the Church.
Chapter 16: Taking On Tough Issues Raised in the Real World.
Part V: The Part of Tens.
Chapter 17: Ten Christian Holy Days, Holidays, and Seasons.
Chapter 18: Ten Christian Leaders You Should Know About.
Chapter 19: Ten New Testament Teachings You Should Know About.
Appendix A: Glossary of Christian Lingo.
Appendix B: Timeline of Christian History.
Index.