Christmas Cooking For Dummies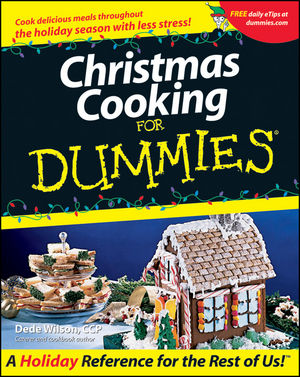 Christmas Cooking For Dummies
ISBN: 978-1-118-06970-7
May 2011
358 pages
Description
Look no further for tips and recipes for whipping up a dazzling array of delicious holiday meals — without stress!
Christmas is the biggest holiday of the year -- and Americans traditionally love to celebrate the season with food, food, and more food. This easy guide shows cooks of every generation how to plan and prepare scrumptious seasonal treats. It includes:
100 delicious recipes for hassle-free holiday meals, including Warm White Bean Dip, Four-Cheese
Spinach Lasagne, and Chocolate Truffle Tart
Tips, checklists, and charts, plus step-by-step guides and shopping lists for special holiday meals, including a Christmas Tree-Trimming Party
A special section on Christmas decorating and food gifts from the kitchen
16 pages of color photos featuring holiday meal recipes and kitchen-made gifts and decorations
Introduction.

How to Use This Book.

How This Book is Organized.

Part I: Gearing Up for Christmas Cooking.

Chapter 1: Making Christmas Special and Stress Free.

Chapter 2: Taking Inventory: Ingredients, Tools, and Techniques for Holiday Cooking.

Chapter 3: Making Magic with Christmas Menus.

Part II: Holiday Meals: Opening Acts.

Chapter 4: Drinks, Anyone?

Chapter 5: Appetizers.

Chapter 6: Salads and Soups.

Part III: Holiday Meals: The Main Event and Sideshows.

Chapter 7: Breakfast Dishes.

Chapter 8: Preparing the Main Dish for the Main Event.

Chapter 9: Complementing the Main Dish with a Chorus of Sides.

Chapter 10: Relishing the Season with Sauces Sweet and Savory.

Part IV: Holiday Meals: Finishing Touches

Chapter 11: Visions of Sugarplums...Christmas Cookies, Candies, and Confections.

Chapter 12: Cakes, Pies, Puddings, Tarts, and Trifle.

Chapter 13: Baking Breads, Scones, and Muffins for the Holidays.

Part V: It's Looking a Lot Like Christmas: Finishing Touches.

Chapter 14: Simple Decorations from the Kitchen.

Chapter 15: Edible Gifts.

Part VI: The Part of Tens.

Chapter 16: Ten Best Holiday Cooking and Entertaining Tips.

Chapter 17: Ten Great Mail-Order Sources for Ingredients and Tools.

Appendix: Metric Conversion Guide.

Index.

Book Registration Information.