Christmas - Philosophy for Everyone: Better Than a Lump of Coal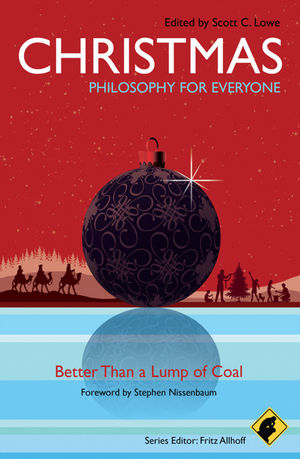 Christmas - Philosophy for Everyone: Better Than a Lump of Coal
ISBN: 978-1-444-34145-4 January 2011 Wiley-Blackwell 256 Pages
Description
From Santa, elves and Ebenezer Scrooge, to the culture wars and virgin birth,
Christmas - Philosophy for Everyone
 explores a host of philosophical issues raised by the practices and beliefs surrounding Christmas.
Offers thoughtful and humorous philosophical insights into the most widely celebrated holiday in the Western world
Contributions come from a wide range of disciplines, including philosophy, theology, religious studies, English literature, cognitive science and moral psychology
The essays cover a wide range of Christmas themes, from a defence of the miracle of the virgin birth to the relevance of Christmas to atheists and pagans
Table of contents
Foreword: Joining the Manger to the Sleigh? (
Stephen Nissenbaum
).
Editor's Introduction (Scott C. Lowe).
Part I: Christmas: In the Beginning.
1. Jesus, Mary and Hume: On the Possibility of the Virgin Birth (Zachary Jurgensen and Jason Southworth).
2. The Virgin Birth: Authentic Christmas Magic (Victor Lyons).
3. Putting the "Yule" Back in "Yuletide" (Todd Preston).
Part II: Is Celebrating Christmas Really a Good Idea?
4. Armed for the War on Christmas (Scott F. Aiken).
5. Christmas Mythologies: Sacred and Secular (Guy Bennett-Hunter).
6. The Significance of Christmas for Liberal Multiculturalism (Mark Mercer).
7. Crummy Commercials and BB Guns: Son-of-a-Bitch Consumerism in a Christmas Classic (Erin Haire and Dustin Nelson).
Part III: Santa: A Deeper Look.
8. The Mind of Santa Claus and the Metaphors He Lives By (William E. Deal and S. Waller).
9. Making a List, Checking It Twice: The Santa Claus Surveillance System (Richard Hancuff and Noreen O'Connor).
10. You'd Better Watch Out… (Will Williams).
11. Santa's Sweatshop: Elf Exploitation for Christmas (Matthew Brophy).
Part IV: The Morality of Christmas.
12. Against the Santa Clause Lie: The Truth We Should Tell Our Children (David Kyle Johnson).
13. Lying to Children about Santa: Why It's Just Not Wrong (Era Gavrielides).
14. Putting Claus Back into Christmas (Steven D. Hales).
15. Scrooge Learns it All in One Night: Happiness and the Virtues of Christmas (Dane Scott).
Part V: Christmas Through Others' Eyes.
16. Holly Jolly Atheists: A Naturalistic Justification for Christmas (Ruth Tallman).
17. Heaven, Hecate and Hallmark: Christmas in Hindsight (Marion G. Mason).
18. Festivus and the Need for Seasonal Absurdity (Caleb Holt).
19. Common Claus: Santa as Cross-Cultural Connection (Cindy Scheopner).
Afterword (Santa Claus).
Notes on Contributors (Santa's Elves).
Reviews
"'Philosophy' here means not the serious study of logic, metaphysics, and so on, but something
closer to 'a collection of interesting ideas and arguments', an eclectic amalgam of popular
psychology, sociology and morality ... Be irenic by all means, but to allow your opponent to win before you have even begun is to eviscerate the arguments and discussion that are the very reason
for this book." (New Directions, 1 December 2011)
"For those more philosophically trained or inclined, the utilization of these philosophical works within the context of the great Christmas debate provide an alternative dimension into classic philosophical arguments of ethics and sociological structures, not typically revealed in academic literature." (Metapsychology, 30 September 2011)
"Wickedly humorous and innovative philosophical insights in a range of essays on Christmas themes make you think more than twice about the most widely celebrated holiday in the Western world." (Suite101.com, December 2010)"Still, it contains several thoughtful and bruising entries, the perfect mix for this time of year". (CBC News, 21 December 2010) 
"This great new book, in fine Socratic fashion, probes the meaning of Christmas, asking challenging questions that help us reflect on how we celebrate the birth of Jesus." (The Englewood Review of Books, January 2011)
"It seems that this time of year most of us are consumed with, well, consuming, whether it's indulgent holiday fare or gift giving. But if you've ever found yourself contemplating some of the deeper aspects of the season, Christmas Philosophy for Everyone offers insight into the season of giving with thought and humor". (Urban Baby, 17 December 2010)
From Santa Claus, elves and Ebenezer Scrooge to rampant consumerism and controversial questions of multiculturalism and the virgin birth, this immensely entertaining and thought-provoking volume, in the oft-audacious Philosophy for Everyone series, explores a plethora of philosophical issues raised by the practices and beliefs surrounding Christmas." (Suite101.com, 16 December 2010)
"It all goes to show that philosophy can engage comfortably with popular themes after all - in this case, by offering an antidote to festive semiotic overload, and bringing a little reason to the season". (Time Out, 16 December 2010)