Chromatin and Gene Regulation: Molecular Mechanisms in Epigenetics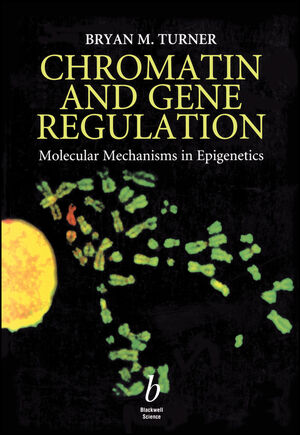 Chromatin and Gene Regulation: Molecular Mechanisms in Epigenetics
ISBN: 978-0-470-75062-9 November 2007 Wiley-Blackwell 288 Pages
Description
Written in an informal and accessible style, Chromatin and Gene Regulation enables the reader to understand the science of this rapidly moving field. Chromatin is a fundamental component in the network of controls that regulates gene expression. Many human diseases have been linked to disruption of these control processes by genetic or environmental factors, and unravelling the mechanisms by which they operate is one of the most exciting and rapidly developing areas of modern biology. Chromatin is central both to the rapid changes in gene transcription by which cells respond to changes in their environment and also to the maintenance of gene expression patterns from one cell generation to the next. This book will be an invaluable guide to undergraduate and postgraduate students in the biological sciences and all those with an interest in the medical implications of aberrant gene expression.
Table of contents
Prologue.
.
1. Controlling transcription: shared aims and common mechanisms.
.
2. Transcription in eukaryotes: the problems of complexity.
.
3. The nucleosome: chromatin's structural unit.
.
4. Histone tails: modifications and epigenetic information.
.
5. Higher-order chromatin structures and nuclear organisation.
.
6. Transcription in a chromatin environment.
.
7. How the transcription machinery deals with chromatin.
.
8. Chromatin remodelling machines.
.
9. Heterochromatin.
.
10. Long-term silencing of gene expression.
.
11. Cellular memory and imprinting.
.
12. Mechanisms of dosage compensation
Reviews
"In conclusion, and to get back to the culinary metaphor (which rang a chord with me as a French reader), it seems that reading this book could be likened to a good appetizer - it should stimulate students to be curious about the rest of the meal and, therefore, run off and read up on the individual aspects of the story."
Genevieve Almouzni, Journal of Cell Science, June 2002
"...probably the most informative, carefully thought-out and well-written book on the subject ... invaluable not only to the undergraduate and postgraduate level students for whom it is written, but also for the chromatin community at large. In a fast-growing and ever-expanding field such as the field of chromatin research, such a book will be a rich source of reference for years to come." J Zlatanova, Heredity (2002) 89, 401

"Chromatin and Gene Regulation offers a concise yet intellectually critical introduction to ... gene regulation." Science, April 2003

"[The] gentle progression through the many levels of gene regulation makes this difficult subject easy to understand. The book can easily be read cover to cover, while the clear chapter layout allows students to dip in at any point. This book is ideal for students and researchers wishing to learn more about this rapidly developing subject." Lindsay Emerson, University of Essex, Newsletter of the British Society for Cell Biology, Summer 2003
Features


Explains the fundamental concept of what makes a cell different from another in simple terms in this exciting and rapidly developing area of modern biology.


Includes a colour plate section.


An up-to-date and essential new textbook which will compliment White's Gene Transcription: Mechanisms and Control.


Written as a sequel to Ptashne's A Genetic Switch.


Cutting-edge subject written in an informal and accessible style for students who need to understand the science of this rapidly moving field.