Chromatography: A Science of Discovery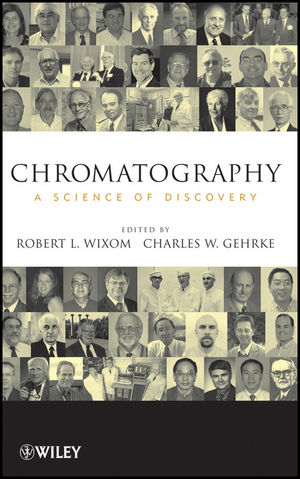 Chromatography: A Science of Discovery
ISBN: 978-1-118-06029-2
Jan 2011
410 pages
Description
Leading researchers discuss the past and present of chromatography
More than one hundred years after Mikhail Tswett pioneered adsorption chromatography, his separation technique has developed into an important branch of scientific study. Providing a full portrait of the discipline, Chromatography: A Science of Discovery bridges the gap between early, twentieth-century chromatography and the cutting edge of today's research.
Featuring contributions from more than fifty award-winning chromatographers, Chromatography offers a multifaceted look at the development and maturation of this field into its current state, as well as its importance across various scientific endeavors. The coverage includes:
Consideration of chromatography as a unified science rather than just a separation method

Key breakthroughs, revolutions, and paradigm shifts in chromatography

Profiles of Nobel laureates who used chromatography in their research, and the role it played

Recent advances in column technology

Chromatography's contributions to the agricultural, space, biological/medical sciences; pharmaceutical science; and environmental, natural products, and chemical analysis

Future trends in chromatography
With numerous references and an engaging series of voices, Chromatography: A Science of Discovery offers a diverse look at an essential area of science. It is a unique and invaluable resource for researchers, students, and other interested readers who seek a broader understanding of this field.
Dedication.
Preface.
Acknowledgments.
Editors/Authors.
Contributors.
1 Chromatography—A New Discipline of Science (Robert L. Wixom, Charles W. Gehrke, Viktor G. Berezkin, and Jaroslav Janak).
2 Chromatography—A Unified Science (Thomas L. Chester).
3 Paradigm Shifts in Chromatography: Nobel Awardees (Robert L. Wixom).
4 The Trails of Research in Chromatography (Robert L. Wixom).
5 Today's Chromatographers and Their Discoveries (2000–2008) (Robert L. Wixom and Charles W. Gehrke).
6 History and Developments in Chromatographic Column Technology and Validation to 2001 (Ernest Bayer, Walter G. Jennings, Ronald E. Majors, J. Jack Kirkland, Klaus K. Unger, Heinz Engelhardt, Gerard Schomburg, William H. Pirkle, Christopher J. Welch, Daniel W. Armstrong, Jerker O. Porath, Jan B. Sjövall, and Charles W. Gehrke).
7 Chromatography—Advances and Applications in Environmental, Agricultural, Space, Biological, and Medical Sciences (Charles W. Gehrke and David S. Hage).
8 Chromatography—Advances and Applications in Pharmaceutical Analysis in the Corporate Sector (Pat Noland, Terry N. Hopper, Michael W. Dong, Yong Guo, Todd D. Maloney, and Raymond N. Xu).
9 Chromatography—Advances in Environmental and Natural Products, Chemical Analysis and Synthesis (Del Koch, Lyle Johnson, Charles W. Gehrke, Pat Sandra and Richard B. Van Breemen).
10 The Chromatography Story Unfolds (Charles W. Gehrke and Robert L. Wixom).
11 Chromatography in the Millennium—Perspectives (Robert L. Wixom and Charles W. Gehrke).
Author/Scientist Index.
Subject Index.
Cover Photographs Key.
"In summary, the editors' objective of linking the development of chemical separations to their modern practice was met. The description of the development of various separation techniques, and their impact on modern science, was most interesting. Contributions from a variety of separation scientists provide a breadth of coverage over nearly all areas of modern chromatography."  (Anal Bioanal Chem, 2011)