Chromosomes: Organization and Function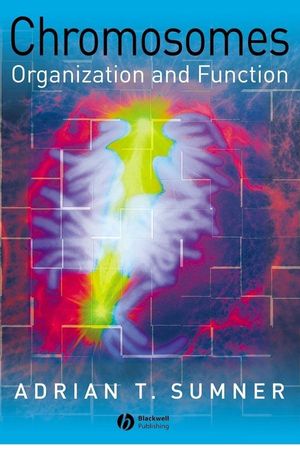 Chromosomes: Organization and Function
ISBN: 978-0-470-69597-5 April 2008 Wiley-Blackwell 304 Pages
Description
Integrating classical knowledge of chromosome organisation with recent molecular and functional findings, this book presents an up-to-date view of chromosome organisation and function for advanced undergraduate students studying genetics. The organisation and behaviour of chromosomes is central to genetics and the equal segregation of genes and chromosomes into daughter cells at cell division is vital. This text aims to provide a clear and straightforward explanation of these complex processes.
Following a brief historical introduction, the text covers the topics of cell cycle dynamics and DNA replication; mitosis and meiosis; the organisation of DNA into chromatin; the arrangement of chromosomes in interphase; euchromatin and heterochromatin; nucleolus organisers; centromeres and telomeres; lampbrush and polytene chromosomes; chromosomes and evolution; chromosomes and disease, and artificial chromosomes. Topics are illustrated with examples from a wide variety of organisms, including fungi, plants, invertebrates and vertebrates. This book will be valuable resource for plant, animal and human geneticists and cell biologists.
Originally a zoologist, Adrian Sumner has spent over 25 years studying human and other mammalian chromosomes with the Medical Research Council (UK). One of the pioneers of chromosome banding, he has used electron microscopy and immunofluorescence to study chromosome organisation and function, and latterly has studied factors involved in chromosome separation at mitosis. Adrian is an Associate Editor of the journal Chromosome Research, acts as a consultant biologist and is also Chair of the Committee of the International Chromosome Conferences.



The most up-to-date overview of chromosomes in all their forms.

Introduces cutting-edge topics such as artificial chromosomes and studies of telomere biology.

Describes the methods used to study chromosomes.

The perfect complement to Turner.
Table of contents
Preface.
1. Why Study Chromosomes?.
2. Mitosis, Meiosis And The Cell Cycle.
3. DNA, The Genetic Code.
4. Assembly Of Chromatin.
5. The Chromosomes In Interphase.
6. Structure Of Mitotic And Meiotic Chromosomes.
7. Constitutive Heterochromatin.
8. Sex Chromosomes And Sex Determination.
9. Imprinting.
10. Euchromatin And The Longitudinal Differentiation Of Chromosomes.
11. The Nucleolus And The Nucleolus Organizing Regions (Nors).
12. Centromeres, Kinetochores And The Segregation Of Chromosomes.
13. Telomeres.
14. Lampbrush Chromosomes.
15. Polytene Chromosomes.
16. Chromosomes, The Karyotype And Evolution.
17. Chromosomes And Disease.
18. Chromosome Engineering And Artificial Chromosomes
Reviews
"This book would be perfect for anyone beginning to work on chromosomes who wants to get a rapid overview of the field. I also recommend this book to established chromosome biologists, simply because it is edifying to see the range of topics covered in this book knitted together so skillfully. Moreover, the book is full of interesting details that ensure its utility, even for experts. The required background knowledge for this book is not extensive, making it suitable for an upper level undergraduate or graduate course on chromosome biology or as a supplementary text for an advanced molecular biology course."
Wallace F Marshall, Yale University, Nature Cell Biology, August 2003
<!--end-->
"This admirable book exemplifies what can distil from depth of experience: in this case Sumner's years in what has now become the MRC Human Genetics Unit in Edinburgh...The strengths of this book are simplicity and directness, a consistently comparative approach, and a judicious summing up where no clear answer can yet be given...The usual cliche that 'undergraduates would benefit from reading this book' is for once entirely justified...This is how science should be written; no-one teaching or thinking about genetics should be without access to it." Simon Baumberg, University of Leeds, Microbiology Today, June 2004

"This is a clear, well written book that uses a good comparative approach, referring to many model organisms. Throughout the book, Dr Sumner highlights important unanswered questions, which will be particularly valuable to readers new to this area. The book is clearly illustrated with some amazing images. I will certainly be using and recommending this book." BSCB Newsletter, January 2005
What's New


The most up-to-date overview of chromosomes in all their forms.


Introduces cutting-edge topics such as artificial chromosomes and studies of telomere biology.


Describes the methods used to study chromosomes.


The perfect complement to Turner.