Church Turned Inside Out: A Guide for Designers, Refiners, and Re-Aligners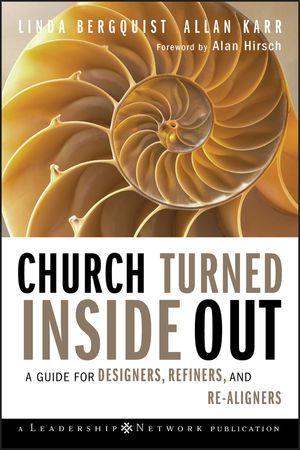 Church Turned Inside Out: A Guide for Designers, Refiners, and Re-Aligners
ISBN: 978-0-470-38317-9 October 2009 Jossey-Bass 240 Pages
Description
A design-thinking book for planting or redesigning churches and incubating a new generation of leaders.
Written by Linda Bergquist and Allan Karr, two experienced church planters and mentors, the book is full of wisdom, practical advice, and creative counsel. Instead of a business-model-as-usual approach, the authors challenge readers to begin with the raw materials of beliefs, values, individuals, teams, and culture, and to then move outwards to draw from a rich palette of real and potential church paradigms. This book is meant to provoke church leaders to think outside of the box and to imagine how their churches might better reflect the image and the mission of God in the world. 
Contains a wealth of illustrative examples, charts, and other visual aides
Offers a creative practical perspective and a multi-disciplinary approach to establishing a new church or leading an existing one
Shows how to honor a church's purpose while embracing its unique culture
Includes important lessons for nurturing church leadership skills
Figures and Tables.
About Leadership Network.
Foreword (Alan Hirsch).
Preface.
1 The Once and Future Church.
2 Acknowledging Self.
3 Cultivating Community.
4 Patterns That Honor God.
5 Designing Around Beliefs.
6 Releasing Communitas.
7 Designing in Culture.
8 Embracing Culture.
9 A Palette of Models.
10 Discovering Congruency.
11 Organizing by Design
12 Organizing as Living Systems.
Notes.
Acknowledgments.
About the Authors.
Index.