Church and People: England 1450-1660, 2nd Edition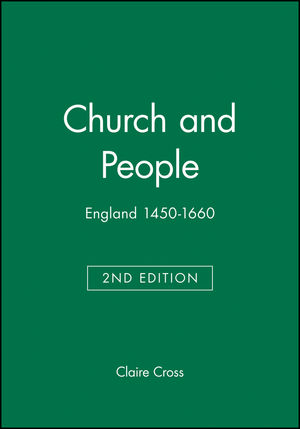 Church and People: England 1450-1660, 2nd Edition
ISBN: 978-0-631-21462-5 June 1999 Wiley-Blackwell 264 Pages
Description
This book provides readers with an account of the rivalry between the two kingdoms of Church and State between the years 1450 and 1660.


England inherited, from medieval times, two systems of authority: the Church, governed by Pope and Bishops; and the State, ruled by Monarch and Lords. However, from the late fourteenth century onwards, this division was increasingly challenged by the laity's insistence on their right to choose not only between different systems of Church government but also between different forms of religious belief. The author charts the rivalry between clergy and laity's and shows how political and social developments between 1450 and 1660 were decisively influenced by this conflict. This second edition includes updates throughout the text in the light of recent scholarship and a new bibliography.
Acknowledgements.
1. Prologue: Lay Questioning of the Medieval Church.
2. Lollard Revival and Conservative Reform.
3. The Henrician Reformation: Protestantism, Anti-Clericalism and the Royal Supremacy.
4. Protestant Advance and Popular Reaction.
5. Catholic Restoration and Protestant Resistance.
6. The Elizabethan Church: Settlement and Separation.
7. Protestant Consolidation.
8. The Laudian Ascendancy.
9. Implementing Lay Supremacy, 1640-1660.
10. Epilogue: The Achievement of Lay Power in the Church.
Bibliographical Appendix: Change and Continuity.
Abbreviations.
Notes.
Bibliography.
Index.
"Scholarly, lucid, illuminating, objective and extremely readable . . . an outstanding contribution." (
Church Times
)
"Good historical writing is a rare commodity, and it is a pleasure to meet it in Claire Cross's new book." (The Tablet)
* Revised and updated edition of this established text.
* Examines the relationship between the Church and the State, key to understanding the political developments of this period.
* Includes an updated bibliography.