Ciao AmiciI! 1 and CD-ROM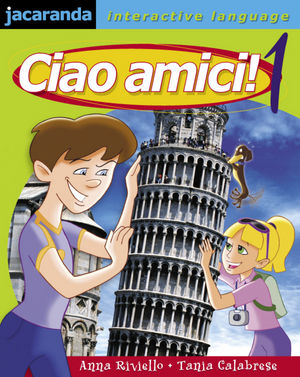 Ciao AmiciI! 1 and CD-ROM
ISBN: 978-0-701-63695-1
Sep 2003, Jacaranda
212 pages
Product not available for purchase
Description
YEARS 7 - 8
Ciao Amici! is an exciting Italian language program for junior secondary school students.

Ciao Amici! textbooks are designed as self-contained spreads with high-impact material, dialogues, language tips, key vocabulary and speaking activities.  The books also feature a wide variety of text types, and one of the most comprehensive dictionary and grammar sections ever provided in an Italian textbook.

The Ciao Amici! Italian language program also includes:
a workbook featuring a variety of text types, and many new listening, writing and reading activities
interactive multimedia CD-ROM with over a hundred hands-on activities for students to enjoy as they enhance their skills.  Students can record their voice and compare it to a native speaker's, and access all audio files from the textbook and workbook
an audio CD set for the teacher, containing all the textbook dialogues and workbook listening activities
Unit 1 Buongiorno a tutti!
1.1 Benvenuta in Italia
1.2 Come ti chiami?
1.3 Sto bene, grazie!
1.4 Chi ? ...
1.5 Sei italiano?
Indovina: Italiani famosi
Unit 2 Eccoci a scuola!
2.1 Come si scrive?
2.2 Ecco ...
2.3 Hai un dizionario?
2.4 Luca, il professore!
2.5 Le mie materie
Revisione unit 1-2
Indovina: Italiano o inglese?
Unit 3 Gli amici
3.1 Conosci Cinzia?
3.2 Mi descrivo
3.3 carina vero?
3.4 Quand'?
Indovina: Gli italani contemporanei
Unit 4 La famiglia
4.1 Famiglie diverse!
4.2 I parenti
4.3 A chi assomigli?
4.4 Hai un animale domestico?
4.5 Le professioni
Revisione unit 3-4
Indovina: La mia famiglia
Unit 5 La moda italiana
5.1 Sono pronta!
5.2 La sfilata di moda
5.3 Le divise del calico
5.4 Gli accessori
Indovina: Gli stilisti
Unit 6 Buon appetito!
6.1 La mattina al bar
6.2 La salumeria
6.3 In pizzeria
6.4 Dal fruttivendolo
6.5 La ricetta
Revisione unit 5-6
Indovina: Un cuoco famoso
Unit 7 A casa nostra
7.1 Casa Morelli
7.2 I lavori domestici
7.3 Che ore sono in Australia?
7.4 Cosa c' in televisione?
7.5 La giornata di Luca
Indovina: Una villa nel verde!

Unit 8 Viva il weekend!
8.1 I miei passatempi preferiti
8.2 Finalmente il weekend! Fantastico!
8.3 Siamo tutti sportivi!
8.4 Sono sportivi gli italiani?
8.5 Al cinema
Revisione unit 7-8
Indovina: La 'Rossa' pi famosa del mondo
Unit 9 Roma, la citt eterna
9.1 Tutti pronti?
9.2 Kate va a Roma
9.3 Dov' la famiglia Morelli?
9.4 La citt di Roma
Indovina: Italia da scoprire

Unit 10 Giulia in Australia
10.1 Giulia e Kate in Australia
10.2 Il mio soggiorno in Italia
10.3 I miei progetti in Australia
10.4 Gli animali australiani
Revisione unit 9-10
Indovina: Gli italiani in Australia

Unit 11 La vita in Australia
11.1 Calcio o footy?
11.2 Alla fattoria
11.3 Il tempo in Australia
11.4 Sono un vero navigatore in Internet!
Indovina: Le previsioni del tempo in Australia e in Italia

Unit 12 Feste e tradizioni
12.1 La giornata dei pomodori - Tomato Day!
12.2 Il Carnevale
12.3 Le feste religiose
12.4 La festa di Natale
Revisione unit 11-12