Cinema and Modernism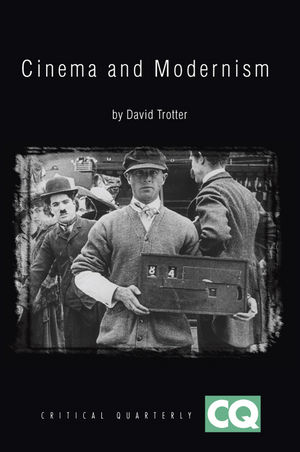 Cinema and Modernism
ISBN: 978-1-405-15982-1
Mar 2007, Wiley-Blackwell
218 pages
Description
This study revolutionises our understanding of both literary modernism and early cinema. Trotter draws on the most recent scholarship in English and film studies to demonstrate how central cinema as a recording medium was to Joyce, Eliot and Woolf, and how modernist were the concerns of Chaplin and Griffith. This book rewrites the cultural history of the early twentieth century, showing how film technology and modernist aesthetics combined to explore the limits of the human.



Offers major re-interpretations of key Modernist works, including Ulysses, The Waste Land, and To the Lighthouse

Explores film and film-going in works by Henry James, Frank Norris, Rudyard Kipling, Katherine Mansfield, and Elizabeth Bowen

Offers original analyses of crucial phases in the careers of two of the most celebrated film-makers of the silent era, D.W. Griffith and Charlie Chaplin
Introduction.
Chapter 1. The literature of cinema.
Chapter 2. D.W. Griffith.
Chapter 3. James Joyce and the Automatism of the Photographic Image.
Chapter 4. T.S. Eliot.
Chapter 5. Virginia Woolf.
Chapter 6. Charlie Chaplin.
"The great success of Cinema and Modernism derives from the author's constant methodological insistence on how cinema and literature matter for each other in modernism, and his methodology demands that he deal rigorously with both film and literature on their own terms and as mutually constitutive in their will-to-automatism. " (James Joyce Quarterly, Summer 2008)

"Trotter conducts his enquiry with admirable historical rigor, rightly castigating approaches which have proved anachronistic in relation to the film-making of the period. He also wisely avoids simplistic models of causality and influence, in favor of subtler aesthetic 'convergences' and 'parallelism'. This grounds his case for interdependency: that we can't fully understand cinema without literary Modernism, and vice-versa." (The Review of English Studies, April 2009)


A fully interdisciplinary study of the relations between early cinema and literary Modernism

Rewrites the cultural history of the early twentieth century, showing how film technology and modernist aesthetics combined to explore the limits of the human

Includes new information on the nature and extent of the interest in cinema taken by writers such as Joyce, Eliot, and Woolf

Offers major re-interpretations of key Modernist works, including Ulysses, The Waste Land, and To the Lighthouse

Explores film and film-going in works by Henry James, Frank Norris, Rudyard Kipling, Katherine Mansfield, and Elizabeth Bowen

Offers original analyses of crucial phases in the careers of two of the most celebrated film-makers of the silent era, D.W. Griffith and Charlie Chaplin