Cinema and the City: Film and Urban Societies in a Global Context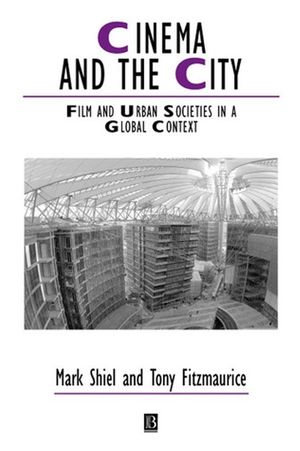 Cinema and the City: Film and Urban Societies in a Global Context
ISBN: 978-1-444-39973-8 July 2011 Wiley-Blackwell 320 Pages
Description
This book brings together the literature of urban sociology and film studies to explore new analytical and theoretical approaches to the relationship between cinema and the city, and to show how these impact on the realities of life in urban societies.
List of Illustrations.
List of Contributors.
Series Editors' Preface.
Preface.
1. 'Cinema and the City in History and Theory'. (Mark Shiel).
2. 'Film and Urban Societies in a Global Context'. (Tony Fitzmaurice).
Part I: Postmodern Mediations of the City: Los Angeles.
3. 'Bunker Hill. Hollywood's Dark Shadow'. (Mike Davis).
4. 'Film Mystery as Urban History. The Case of Chinatown'. (John Walton).
5. 'Return to Oz. The Hollywood Redevelopment Project, or Film History as Urban Renewal'. (Josh Stenger).
Part II. Urban Identities, Production and Exhibition.
6. 'Shamrock. Houston's Green Promise'. (James Hay).
7. 'From Workshop to Backlot. The Greater Philadelphia Film Office'. (Paul Swann).
8. 'Cities: Real and Imagined'. Geoffrey Nowell-Smith.
9. 'Emigrating to New York in 3-D: Stereoscopic Vision in IMAX's Cinematic City'. (Mark Neumann).
10. 'Finding a Place at the Downtown Picture Palace: The Tampa Theater, Florida'. (Janna Jones).
11. 'Global Cities and the International Film Festival Economy'. (Julian Stringer).
Part III: Cinema and the Postcolonial Metropolis.
12. 'Streetwalking in the Cinema of the City: Capital Flows through Saigon'. (J. Paul Narkunas).
13. 'Cityscape: The Capital Infrastructuring and Technologization of Manila'. (Rolando B. Tolentino).
14. 'The Politics of Dislocation: Airport Tales, The Castle'. (Justine Lloyd).
15. 'Representing the Apartheid City: South African Cinema in the 1950s and Jamie Uys's The Urgent Queue'. (Gary Baines).
16. 'The Visual Rhetoric of the Ambivalent City in Nigerian Video Films'. (Obododimma Oha).
17. 'MontrÚal Between Strangeness, Home and Flow'. (Bill Marshall).
18. '(Mis-) Representing the Irish Urban Landscape'. (Kevin Rockett).
Part IV: Urban Reactions On-screen.
Idealism and Defeat.
19. 'Postwar Urban Redevelopment, the British Film Industry and The Way We Live'. (Leo Enticknap).
20. 'Naked: Social Realism and the Urban Wasteland'. (Mike Mason).
Escape and Invasion.
21. 'Jacques Tati's Play Time as New Babylon'. (Laurent Marie).
22. 'Poaching on Public Space: Urban Autonomous Zones in French Banlieue Films'. (Adrian Fielder).
Index.
"...a welcome addition to the reading-lists of graduate and undergraduate courses in film studies and urban studies/sociology..."
Urban Studies
".recommended to those who are exploring the exciting reciprocity between the city and the cinema..." Journal of Urban Technology

"...an exceptional reader that interrogates a range of issues linking cities, film, and globalization... intriguing, engaging, and informed..." Annals of the Association of American Geographers

"Cinema and the City is an exceptional reader that interrogates a range of issues linking cities, film, and globalization. With essays of exceptionally high quality this is an intriguing, engaging and informed work that should be accessible to an array of disciplines and students." Leo Zonn, University of North Carolina, Chapel Hill. <!--end-->

"Stitching together the complex and multiple intersections between film, cities, urban cultures and globalisation is no simple task, as any number of very good single-authored works will demonstrate. Despite these difficulties, Shiel and Fitzmaurice's excellent anthology rises to the occasion and, in the process, pushes film studies beyond its usual terrain of textual, audience and production analyses to relocate the subject matter within urban sociology [...] As the relationship between film and the city continue to develop as a focus of critical inquiry, Cinema and the City stands as one of the more accessible and innovative entry-points into the issues" Shiel and Fitzmaurice, Urban Studies.


Integrates urban sociology and film studies literature to show what can be learnt about cities from film.


Provides an innovative and instructive contribution to urban studies.


Includes a wide range of case studies from around the world.