Circuit Training For Dummies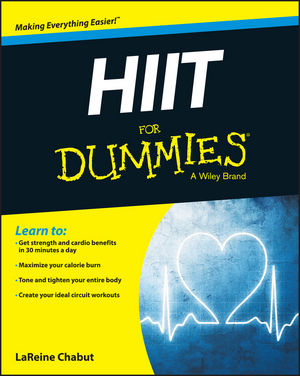 Circuit Training For Dummies
ISBN: 978-1-119-09988-8
May 2017
360 pages
Product not available for purchase
Description
Lose weight and feel great with circuit training and interval training!
Looking for an easy-to-follow guide to circuit and interval training? Look no further. Rated in the top 20 worldwide fitness trends, these strength and cardio workouts get results. Written by bestselling author and television personality, LaReine Chabut, HIIT and Circuit Training For Dummies helps you maximize your training, build lean muscle, increase your energy, boost your metabolism, lose weight, and improve your overall health.
If you want to enjoy the benefits of working out but get bored by stale routines and seemingly endless repetitions, circuit training is for you. By moving from one exercise to another—in a circuit—your mind doesn't have time to tune out, giving you more focus than a typical workout. Plus, the quick succession of exercises is targeted on different muscle groups, meaning your heart rate stays up and no rest is needed between trainings.
Get strength and cardio benefits in 30 minutes a day
Maximize your calorie burn with HIIT circuit training
Tone and tighten your entire body
Create your own ideal circuit workouts
Whether you're an exercise newbie or a regular gym rat, HIIT & Circuit Training For Dummies is the perfect resource to lose weight, get stronger, and improve your health.