Cities Back from the Edge: New Life for Downtown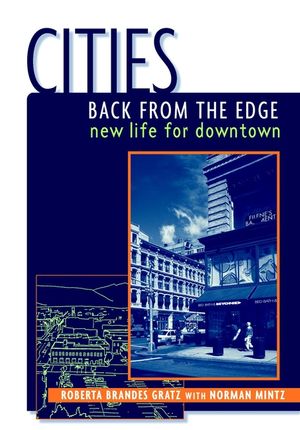 Cities Back from the Edge: New Life for Downtown
ISBN: 978-0-471-14417-5 April 1998 384 Pages
Description
"A love song for the city . . . [this] volume, attractively packaged and richly illustrated, is really a cookbook for downtown revitalization." --Wall Street Journal

In this pioneering book on successful urban recovery, two urban experts draw on their firsthand observations of downtown change across the country to identify a flexible, effective approach to urban rejuvenation. From transportation planning and sprawl containment to the threat of superstore retailers, they address a host of key issues facing our cities today.

Roberta Brandes Gratz (New York, NY), an award-winning journalist and urban critic, is author of the urban design classic The Living City. A former staff reporter for the New York Post, Gratz has written for the New York Times Magazine and other publications. Norman Mintz (New York, NY) has played a leading role in the field of downtown revitalization for more than twenty-five years. He is Design Director at the 34th Street Partnership in New York City and a consultant on downtown revitalization across the country.
WHERE ARE WE?

Mansfield, Ohio--Getting Off the Big Project Merry-Go-Round.

The Mess We Have Made.

Project Planning or Urban Husbandry--The Choice.

TRANSPORTATION AND PLACE.

Death and Rebirth of the Public Realm.

Rebuilding Place, Valuing Transit.

Undoing Sprawl.

BIG, LITTLE, AND PREDATOR.

Free Competition or No Competition?

You Don't Have to Be Wal-Mart to Be Wal-Mart.

To Market, To Market.

DOWNTOWN ESSENTIALS.

Public Buildings, Public Policies.

Back to Basics.

Investing in People.

IT'S HAPPENING.

The SoHo Syndrome.

Conclusion.

Index.
In Cities Back from the Edge, Gratz and Mintz offer a love song for the city...their volume, attractively packaged and richly illustrated, is really a cookbook for downtown revitalization. It turns out the most valuable contribution to urban understanding of the year isn't only a book, it's also a bumper sticker: Think globally, act locally."--The Wall Street Journal

Cities Back From the Edge was featured again in The New York Times. Frank Rich writes, "In their new book persuasively arguing for less grandiose, more indigenous urban renewal, Roberta Brandes Gratz and Norman Mintz write that a 'collection of visitor attractions does not add up to a city' whether those attractions are cultural centers, convention centers, aquariums, stadiums or enclosed malls."--The New York Times

"...provides a fascinating insight into the US Urban Design scenario..." (Urban Design, Autumn 2001)