Cities of Whiteness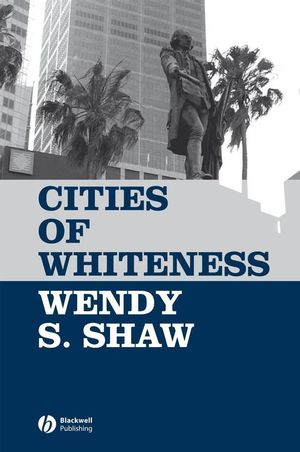 Cities of Whiteness
ISBN: 978-0-470-71293-1 May 2008 Wiley-Blackwell 232 Pages
Description
This groundbreaking book brings the study of whiteness and postcolonial perspectives to bear on debates about urban change.
A thought-provoking contribution to debates about urban change, race and cosmopolitan urbanism
Brings the study of whiteness to the discipline of geography, questioning the notion of white ethnicity
Engages with Indigenous peoples' experiences of whiteness – past and present, and with theoretical postcolonial perspectives
Uses Sydney as an example of a 'city of whiteness', considering trends such as Sydney's 'SoHo Syndrome' and the 'Harlemisation' of the Aboriginal community
Table of contents
List of Figures.
List of Boxes.
Acknowledgements.
Introduction.
1. Encountering Cities of Whiteness.
Journeying to Inner Sydney.
Cities as Cultural Constructions - Gentrification and Urbanism.
The Birth of Whiteness Scholarship.
Cities of Neo-colonial Whiteness.
2. (Post)colonial Sydney.
From Dangerous to Endangered City.
Securing Whiteness in the Paradoxical City.
Conclusions.
3. 'The Good Old Days'.
Heritage Dreaming.
Performing Sydney Heritage.
Activating Heritage.
Architectures of Escape 1: Into the Past.
Conclusions.
4. Cosmopolitan Metropolitanism (Or The Indifferent City).
Introduction.
Manhattan Dreaming (in Sydney Australia).
Architectures of Escape 2: Sydney's SoHo Syndrome.
Conclusions.
5. Cities of Whiteness.
Geographies of Urban Whiteness.
Studying Cities.
The End of (Cities of) Whiteness?
Bibliography.
Index.
Reviews
"Shaw does a fascinating job combining the literature on urban transformation with whiteness studies and creating a unique reading of Sydney as a space of white privilege … .The book is well researched and tells a fascinating story of racialized urban change." (Environment and Planning D: Society and Space, December 2008)
Features


A thought-provoking contribution to debates about urban change, race and cosmopolitan urbanism

Brings the study of whiteness to the discipline of geography, questioning the notion of white ethnicity

Engages with Indigenous peoples' experiences of whiteness – past and present, and with theoretical postcolonial perspectives

Uses Sydney as an example of a 'city of whiteness', considering trends such as Sydney's 'SoHo Syndrome' and the 'Harlemisation' of the Aboriginal community