Citizenship, Nationality and Ethnicity: Reconciling Competing Identities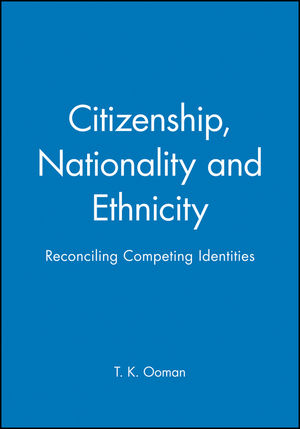 Citizenship, Nationality and Ethnicity: Reconciling Competing Identities
ISBN: 978-0-745-61620-9 January 1997 Polity 280 Pages
Download Product Flyer
Download Product Flyer
Download Product Flyer is to download PDF in new tab. This is a dummy description. Download Product Flyer is to download PDF in new tab. This is a dummy description. Download Product Flyer is to download PDF in new tab. This is a dummy description. Download Product Flyer is to download PDF in new tab. This is a dummy description.
Description
Most interpretations of ethnicity concentrate either on particular societies or on specific dimensions of 'world society'. This work takes quite a different approach, arguing that variations within and across societies are vital for understanding contemporary dilemmas of ethnicity. The author aims to develop a new analysis of the relation between the nation on the one hand, and ethnicity and citizenship on the other.

Oommen conceives of the nation as a product of a fusion of territory and language. He demonstrates that neither religion nor race determines national identities. As territory is seminal for a nation to emerge and exist, the dissociation between people and their 'homeland' makes them an ethnie. Citizenship is conceptualized both as a status to which nationals and ethnies ought to be entitled and a set of obligations, a role they are expected to play.

Analyses of three historical episodes - colonialism and European expansion, Communist internationalism and the nation-state and its project of cultural unity - are examined to provide the empirical content of the argument.

This book will be essential reading for second-year undergraduates and above in the areas of sociology, anthropology and cultural studies.
Table of contents
Part I: The Conceptual Kit: The Search for Clarity:
.
1. Introducing the Argument.
2. Rethinking Citizenship, Nationality and Ethnicity.
3. Avoiding Conflations and Subsumptions.
4. Race and Religion: Untenable Factors in Nation Formation.
Part II: The Empirical Process: The Trajectory of Ethnification: .
5. Colonialism and European Expansion.
6. Proletarian Internationalism and the Socialist State.
7. The Nation-State and Project Homogenization.
8. Immigration and the Chauvinism of Prosperity.
Part III: Towards a Rapproachment: Concepts and Reality: .
9. Reconceptualizing Nation and Nationality: The Cruciality of Territory and Language.
10. Class, Nation, Ethnie and Race: Interlinkages.
11. Reconciling Nationality and Ethnicity: The Role of Citizenship.
Notes.
References.
Index.
Reviews
"Professor Oommen's new work ought to be required reading for sociologists, politicians and demagogues. Starting with the truth that conceptualization is the parent of almost all thinking about society, he brings exceptional clarity to the frequently muddied discourse about state, nation, race, ethnicity, religion and other related ideas. Shunning simplification and conflation in favour of complexity, Oommen avoids the parochialism and myopia so often found in writings about primordial groupings. The extent of his historical and comparative sweep is especially admirable. So, too, is his development of the notion of ethnification and homogenization, which lends a dynamic element to his analysis - also in happy contrast to the 'eternal' and 'timeless' emphasis in much of the literature on citizenship, nationality, ethnicity and race."
Neil J. Smelser, Director, Center for Advanced Study in the Behavioural Sciences
"This book is written in simple language and is therefore useful for lay readers in addition to the specialists ... the book is a work of outstanding scholarship." Social Action
"This important new book from a distinguished Indian sociologist seeks to grapple with questions of ethnicity and nationality through a detailed exercise of conceptual clarification. An impressively vast historical and comparative canvas forms the background and basis of this attempt at sweeping away the dusty cobwebs of historical and sociological scholarship, and disentangling the often confused discourse around these concepts." Economic and Political Weekly

"There is considerable wisdom in Oommen's argument ... illustrated with a wide range of examples." American Journal of Sociology
Features
* Offers a new interpretation of one of the most significant social problems of the moment - the origins of ethnic divisions and ethnic clashes.
* Oommen discusses ethnicity in relation to both the notion of the nation and the notion of citizenship.
* Unlike many comparable works which concentrate on Europe and the US, this book offers more of a global sweep, discussing ethnic and cultural divisions in Asia and Africa.