City Catalyst: Architecture in the Age of Extreme Urbanisation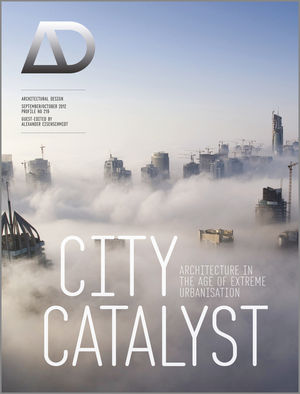 City Catalyst: Architecture in the Age of Extreme Urbanisation
ISBN: 978-1-119-97266-2
Oct 2012
144 pages
Description
The city has become an important new starting point in the quest for architecture. At a time of extreme urbanisation, unharnessed urban growth has led many architects to rethink the way that buildings are designed for the global metropolis. It is no longer practical or desirable to impose the standardised, idealized planning of the 20th century. Rather than viewing the city as a fixed entity, architects are now seeking direct inspiration from the existing urban environment and learning from its ever-changing state that resists predetermination. The city, in all its complexity, has become a realm of invention and a space for possibilities where new designs can be tested. This is as apparent in the work that architects are undertaking in the informal settlements, or favelas, of Latin America, as in the more regulated spaces of Chicago, London or Tokyo. Favouring an inclusive way of viewing the city, no aspect of the urban world is any longer rejected outright, and architects and urban designers instead find potential and learn from the underlying dynamics of the contemporary city. This attitude highlights the generative capacities of the city and finds new ways of engaging it. At the very least, it advances an architectural thinking that engages the city on its own ground, abets its potential and seeks opportunities in the existing condition.
 • Featured architects: Kunlé Adeyemi/NLE, Atelier Bow-Wow, Jürgen Mayer H, Normal Architecture Office (NAO), Adriaan Geuze/West 8, Ron Witte/WW, UrbanLab, Sean Lally/Weathers, and OMA.
 • Key contributors: Keller Easterling, Jiang Jun, Albert Pope, Michelle Provoost/Crimson, Robert Somol, Kyong Park, Jesse LeCavalier, Daniela Fabricius and Bernard Tschumi (interview).
EditorIal 5
Helen Castle
About the GUEST-EDITOR 6
Alexander Eisenschmidt
SPOTLIGHT 8
Visual highlights of the issue
Introduction 14
Stranger Than Fiction: A Mission Statement
Alexander Eisenschmidt
The City's Architectural Project: From Formless City to Forms of Architecture 18
Alexander Eisenschmidt
Patrons & Prototypes: Walmart's Catalytic Urbanism 26
Jesse LeCavalier
Localising the Global 36
Kyong Park
Revolution of the Ordinary 42
Daniela Fabricius
China's Macro-Planning Policies: Architectural Catalyst or Constraint? 50
Edward Denison
We Will Be Making Active Form 58
Keller Easterling
Counterpoints With Crisis 64
Srdjan Jovanovic Weiss
Metropol Parasol, Seville 70
Jürgen Mayer H
The Perfect Storm: Urbanism and Architecture 74
Ron Witte
The Unified Project 80
Albert Pope
Void Metabolism 88
Yoshiharu Tsukamoto
Urban Wash 94
Sean Lally
African Water Cities 98
Kunlé Adeyemi
Make No Big Plans 102
Michelle Provoost and Wouter Vanstiphout
Shape and the City 108
RE Somol
Too Big To Fail 114
Sarah Dunn and Martin Felsen
Parc Des Expositions (PEX), Toulouse: A Condenser for Diversity 120
Clément Blanchet
Dancing with Entropy 124
Adriaan Geuze and Matthew Skjonsberg
Importing the City into Architecture: An Interview with Bernard Tschumi 130
Alexander Eisenschmidt
Counterpoint 136
Hello Stranger: Phenomenology and Topography of the Megacity
Caroline Bos
Contributors 142