Civic Learning and Democratic Engagement: New Directions for Community Colleges, Number 173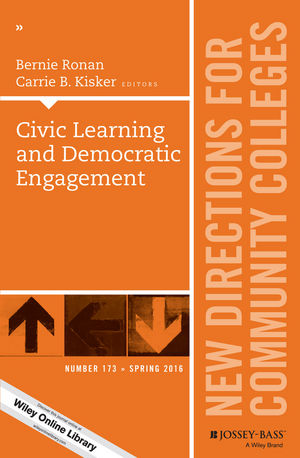 Civic Learning and Democratic Engagement: New Directions for Community Colleges, Number 173
ISBN: 978-1-119-23392-3 March 2016 Jossey-Bass 136 Pages
Description
Concepts of civic learning and democratic engagement are central to the purpose of higher education, especially for community colleges. This volume:
establishes a philosophical framework for civic learning and democratic engagement in community colleges,
details several approaches to enhancing the civic capacities of students in these institutions,
provides best practice examples and lessons learned from practitioners in the field, and
addresses some of the sticky issues such as: What are the outcomes of civic learning programs and practices? How might civic competencies transfer to other settings? Is there a connection between civic skills and those valued in the workplace?

This is the 173rd volume of this Jossey-Bass quarterly report series. Essential to the professional libraries of presidents, vice presidents, deans, and other leaders in today's open-door institutions, New Directions for Community Colleges provides expert guidance in meeting the challenges of their distinctive and expanding educational mission.
Table of contents
INTRODUCTION 7
Carrie B. Kisker, Bernie Ronan
1. An Inventory of Civic Programs and Practices 13
Carrie B. Kisker
This chapter describes the ways in which civic learning and democratic engagement are incorporated into colleges' mission and strategic plans, curricula, professional development, and extracurricular programming.
2. Love of the World: Civic Skills for Jobs, Work, and Action 23
Bernie Ronan
This chapter explores the philosophical roots of civic learning that are essential in helping students become engaged in their communities and active in democracy.
3. The Community College's Role in Helping to Make Democracy Work as It Should 33
David Mathews
This chapter examines how the work of community colleges relates to the democratic work that citizensmust do and makes the case for better alignment between the two.
4. Political Science, Civic Engagement, and the Wicked Problems of Democracy 41
John J. Theis
This chapter describes the uncomfortable marriage between political science and civic education and calls for a reformulation of how we engage students in the wicked problems of democracy.
5. Civic Engagement and Cosmopolitan Leadership 51
Clifford P. Harbour
This chapter explores the leadership qualities important to the development of civic engagement at a large, suburban community college.
6. Implementing the Civic Engagement Graduation Requirement at Kingsborough Community College 61
Lavita McMath Turner
This chapter describes the process and challenges of implementing a civic engagement graduation requirement at Kingsborough Community College.
7. Overcoming Faculty Fears About Civic Work: Reclaiming Higher Education's Civic Purpose 69
Cynthia Kaufman
This chapter describes fears that may lead to faculty resistance to civic engagement and suggests ways of conquering these fears in order to further develop the civic capacity of our students and our institutions.
8. Reframing Teacher Education for Democratic Engagement 77
Lisa Strahley, Tracy D'Arpino
This chapter describes a Public Achievement partnership between teacher education students at SUNY Broome and students at a local elementary school that led to all participants gaining a stronger sense of themselves as civic change agents in their communities.
9. Bridging Cultures to Form a Nation: The Humanities and Democratic Learning 83
Caryn McTighe Musil
This chapter describes a 3-year curriculum and faculty development collaboration between the American Association of Colleges and Universities and The Democracy Commitment called Bridging Cultures to Form a Nation: Difference, Community, and Democratic Thinking.
10. Civic Engagement at a Small Rural College: If We Can Do It . . . 93
Kurt Hoffman
This chapter describes the cocurricular activities offered through The Democracy Commitment at Allegany College of Maryland and the selfreported civic outcomes of its students.
11. The Civic Outcomes of Community College 103
Carrie B. Kisker, Mallory Angeli Newell, Dayna S. Weintraub
This chapter describes the individual and institutional factors leading to greater civic outcomes among students at four The Democracy Commitment colleges in California.
12. Empowering and Transforming a Community of Learners via a Student-Centered Approach to Campus Dialogue and Deliberation 111
Jennifer Mair
This chapter describes Skyline College's student-centered approach to campus dialogue and deliberation and assesses the transferability of these skills to civic, workplace, and personal settings.
13. Bridging the Workforce and Civic Missions of Community Colleges 121
Lena Jones
This chapter explores the relationship between the civic and workforce missions at Minneapolis Community and Technical College and suggests ways that they might be better integrated.
INDEX 131