Civil Avionics Systems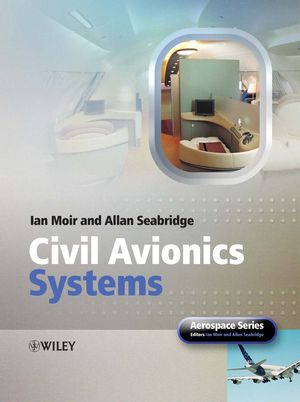 Civil Avionics Systems
ISBN: 978-0-470-02703-5
Oct 2005
396 pages
Product not available for purchase
Description
Civil Avionics Systems is an in-depth study and explanation of avionics as applied to civil aircraft. Avionics covers analogue and digital electronics, sensors, signalling, and computers that transmit to and control the operations of the aircraft.

Avionics includes the technology, systems development, electrical systems, sensors, communication, navigation, flight control, displays, engine and utilities control, and is also the integration of all these elements.

Ian Moir and Allan Seabridge are both highly experienced in the aircraft industry and are also involved in devising and delivering training courses. Their direct and accessible style, along with the input of an international team of technical advisors, ensures that Civil Avionics Systems is an authoritative reference text. 
Provides a uniquely comprehensive source of information
Illustrated throughout with line drawings and photographs, some in full colour
Explains and explores the latest developments in avionics technology, including FANS – Future Air Navigation Systems
Includes a chapter on displays written by Malcolm Jukes, an internationally respected expert.
Engineers in the airline industry, designers, manufacturers, operators, maintenance engineers, electronic component suppliers, engine manufacturers, air traffic controllers, navigation engineers, aircraft inspectors, accident investigators, and those studying become part of the aerospace industry will all find Civil Avionics Systems invaluable.