Civil Society, Civil Religion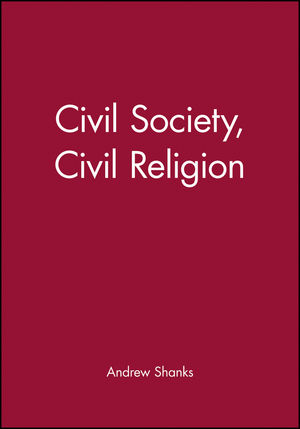 Civil Society, Civil Religion
ISBN: 978-0-631-19758-4
Sep 1995, Wiley-Blackwell
264 pages
Description
Civil Society, Civil Religion pioneers an essentially new genre of theology: a form of pure civil theology, on a systematic basis. It is an important and original book, in significant respects carrying forward the debate initiated by John Milbank's Theology and Social Theory , albeit in a very different way.
Introduction.
Part I: Negative Revelation: .
A. Hannah Arendt.
1. Isonomy.
2. Auctoritas.
3. The Life of the Mind.
B. Simone Weil.
1. Deracinement.
2.'The Absolute Good.'.
Part II: Religion, Civility and Faith:.
A. Against Confessional Exclusivism.
1. Truth as Subjectivity.
2. Faith versus 'Religion'.
3. Affinity Group / Open Forum.
B. Civil Theology in Christendom.
Part III: 'The Solidarity of The Shaken': Civil Theology And Historical Consciousness:.
A. Jan Patocka's Meta-history of Historical Consciousness.
B. The History of 'Nihilism'.
C.'Nur Noch ein Gott...'.
Part IV: The Virtues Of Discernment:.
A. Free-spiritedness (Heidegger, Hegel, Nietzsche).
B. Flair for Tradition (Hegel).
C. Transcendent Generosity (Levinas).
Part V: 'Anti-Politics'.
"The question of religion and civil society is becoming central for all critical discourse. Andrew Shanks' new book approaches it with a European breadth of seriousness."
John Milbank, Peterhouse, Cambridge
"This book is written with wit, passion and clarity; not the least important thing about it is its thorough immersion in the wider European world of culture and politics. It should be read by anyone concerned for the future of a genuinely democratic politics in our society, as well as by anyone who still looks to religious language to offer a point of moral reference in times of violence." Rowan Williams, Bishop of Monmouth, Wales
* Attempts to develop an essentially new genre of theology which asks how theology can best contribute to moral and political debates.