Clarinet For Dummies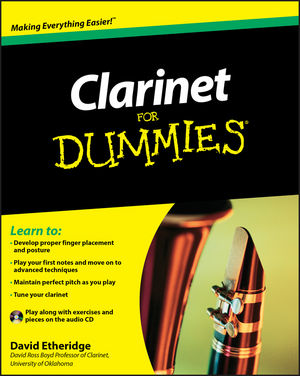 Clarinet For Dummies
ISBN: 978-0-470-87533-9
Aug 2010
360 pages
Description
Master the most popular woodwind
Want to play the clarinet? No problem! This hands-on guide teaches you all the fundamental techniques you need to play this popular woodwind alone or in a group setting.
Clarinet For Dummies gives you the ideal introduction to play clarinet. You?ll begin by learning how to properly hold a clarinet and move on to getting a consistent sound, reading music, and playing songs in a variety of styles, including classical, pop, and jazz.
Step-by-step instruction on finger placement, posture, and basic up-keep for the instrument
Tips on how to buy or rent a clarinet
Accompanying CD offers play-along recordings of every exercise featured in the book
Whether you?ve never held a clarinet or are looking to brush up on skills from your youth, Clarinet For Dummies is packed with friendly, easy-to-follow instructions to have you playing this versatile instrument with ease!
Note: CD-ROM/DVD and other supplementary materials are not included as part of eBook file.
Introduction.
Part I: Tuning Up with the Basics.
Chapter 1: So You Want to Play the Clarinet.
Chapter 2: Getting to Know the Clarinet.
Chapter 3: Picking the Right Clarinet for You.
Chapter 4: Grasping the Basics of Musical Notation.
Chapter 5: Assembling, Cleaning, and Caring for Your Clarinet.
Part II: And a One, and a Two, and a Three: Getting Started.
Chapter 6: Getting Your Body, Lungs, and Lips in the Game.
Chapter 7: Playing Your First Notes.
Chapter 8: Heading Lower, Higher, and In Between.
Chapter 9: Playing Between the Notes: Slurring and Tonguing.
Chapter 10: Rising Above and Beyond High C.
Part III: Above and Beyond: Essential Intermediate Techniques.
Chapter 11: Achieving a Great Clarinet Tone.
Chapter 12: Shaking It Up with Vibrato, Glissandos, Bends, and Scoops.
Chapter 13: Taking Your Fingers to the Next Level: Additional Fingerings.
Chapter 14: Turbo Tonguing and Faster Fingering.
Chapter 15: Tuning Up for Proper Pitch.
Chapter 16: Heading to the Practice Studio.
Chapter 17: Refining Your Reeds.
Chapter 18: Gaining Expertise and Exposure through the Clarinet Community.
Part IV: The Part of Tens.
Chapter 19: Ten Insider Secrets to Great Clarinet Playing.
Chapter 20: Ten (Plus) Clarinetists You Gotta Hear.
Part V: Appendixes.
Appendix A: Fingering Charts.
Appendix B: About the CD.
Index.