Class Concerns: Adult Education and Social Class: New Directions for Adult and Continuing Education, Number 106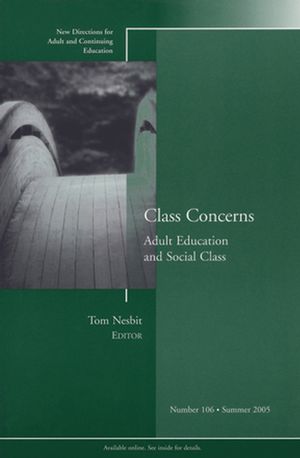 Class Concerns: Adult Education and Social Class: New Directions for Adult and Continuing Education, Number 106
ISBN: 978-0-787-98128-0 June 2005 Jossey-Bass 112 Pages
Description
This volume brings together leading progressive adult educators to explore how class affects different arenas of adult education practice and discourse. It highlights the links between adult education, the material and social conditions of daily and working lives, and the ecoomic and political systems that underpin them. Chapters focus on adult education policies; teaching; learning and identity formation; educational institutions and social movements; and the relationships between class, gender, and race.

Overall, the volume reaffirms the selience of class in shaping the lives we lead and the educational approaches we develop. It offers suggestions for adult educators to identify and resist the encroachments of global capitalism and understnad the role of education in promoting social equality. Finally, it suggests that a class perspective can provide an antidote to much of the social amnesia, self-absorption, and apolitical theorizing that pervades current adult education discourse.

This is the 106th volume of the Jossey-Bass quarterly report series New Directions for Adult and Continuing Education.
EDITOR'S NOTES (Tom Nesbit).
1. Social Class and Adult Education (Tom Nesbit)
This chapter provides a historical overview of the development of the concept of class and its applicability to the study of adult education.
2. Social Class and Adult Education Policy (Kjell Rubenson)
Social class has influenced the development of policies about adult education in various countries. The present policy discourse on adult education is a result of weakening working-class interests.
3. Learning, Literacy, and Identity (Lyn Tett)
Assumptions about learner identity are often based on a deficit view of the working classes. This chapter illustrates an alternative discourse that shows how one family literacy program in Scotland generated useful knowledge.
4. Educational Institutions: Supporting Working-Class Learning (Griff Foley)
Asserting that the working class has a distinctive learning style, this chapter argues for a supportive, challenging, and class-conscious pedagogy.
5. Class in the Classroom (Janice Malcolm)
The author considers how class helps to construct the identity and ultimately the teaching of certain groups of educators. The chapter also explores ways of making class explicit in the teacher education classroom.
6. Social Movements, Class, and Adult Education (Shirley Walters)
Social movements in South Africa, often organized around class-related issues, provide rich material to illustrate how class, intertwined with other social categories, shapes organizational and educational practices.
7. Class and Gender (Mechthild Hart)
Women's labor is beneficial to global capitalism; thus, class and gender are inseparable, regardless of the specific national or cultural context in which women work.
8. Class and Race (Shahrzad Mojab)
The author explores the dialectical relationship between class and race as it pertains to adult education epistemology, pedagogy, and practice.
9. The Continued Relevance of Class (Tom Nesbit)
The editor summarizes the volume's main ideas, discusses the practical importance of adopting a class perspective on adult education, and suggests some further readings.
INDEX.