Class in Britain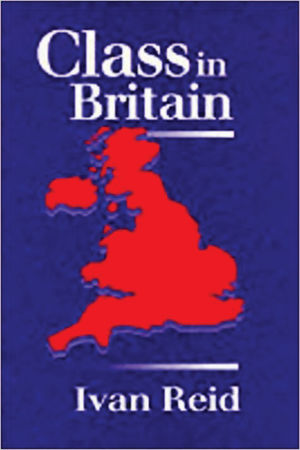 Class in Britain
ISBN: 978-0-745-61892-0 December 1998 Polity 304 Pages
Download Product Flyer
Download Product Flyer
Download Product Flyer is to download PDF in new tab. This is a dummy description. Download Product Flyer is to download PDF in new tab. This is a dummy description. Download Product Flyer is to download PDF in new tab. This is a dummy description. Download Product Flyer is to download PDF in new tab. This is a dummy description.
Description
Social class differences and inequalities are alive and flourishing in contemporary Britain. In reviewing a wide range of sources, this book provides easy access to the empirical research on social class. It illustrates how class differences reach into society, affecting not only life-styles but also life-chances - birth, health and death. Reid demonstrates how social class is related to most aspects of life in Britain including: differences in wealth and income, education and qualifications, work and leisure, expectation of life and experience of health, housing, sex and family relationships, political and religious beliefs and activity. It provides a comprehensive view of the nature of social class in Britain and discusses how the concept of class has been used in empirical research. In sum, it presents a very serious challenge to the hope or promise that Britain is moving towards a classless society.
Dispassionate in its approach, clear in its presentation and comprehensive in its treatment, Class in Britain provides an indispensable guide and sourcebook for all those who need to know, or are interested in, the social structure of Britain today. It is written for a very wide-ranging audience including students, social scientists, teachers, politicians and administrators.
Table of contents
List of Tables.
Acknowledgements.
Preface.
Part I: Social Class and This Book: .
Social Class: a Subject for all Seasons.
Social Class in Research.
About This Book.
Part II: The Social Classes in Britain:.
The Distribution of Social Class in Britain.
How the Public Sees Social Class.
Part III: Life-Chances. Birth, Infancy and Childhood. Health. Life-Style and Health:.
Use of Health Services.
Mortality.
Life Expectancy.
Overview.
Part IV: Income, Wealth, Poverty and Expenditure:.
Income.
Wealth.
Poverty.
Expenditure.
Part V: Work, Unemployment and Social Mobility:.
Work.
Unemployment.
Social Mobility.
Part VI: Family, Children and Home:.
The Family.
Children.
The Home.
Part VII:. Education. Adults and Education.
Children's Schooling and Education.
Part VIII: Religion, Crime, Law, Politics and Opinion:.
Religion.
Crime and the Law.
Politics.
Opinion.
Part IX: Leisure and the Media:.
Home-Based Leisure.
Out-of-Home Activities.
Part X: Class in a Classless Society: .
Appendices.
References and Author Index.
Subject Index.
Reviews
"Ivan Reid confirms his position as the most useful writer on the conventional empirical realities of class in Britain. This book is up to date and based on large-scale research figures. The presentation is straightforward but sophisticated. It will be eminently valuable not just to all social scientists but to practitioners and anyone interested in modern Britain. It is a considerable achievement to present what amounts to a catalogue of social class differences." Colin Bell, University of Edinburgh
Features
* A comprehensive yet highly accessible guide to the nature and extent of social class in Britain.
* Contains previously unpublished data from a range of sources which is presented in a clear and systematic manner.
* Reveals the actual state about class in Britain.