Classical Social Theory: A Contemporary Approach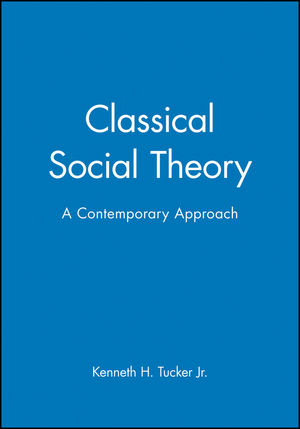 Classical Social Theory: A Contemporary Approach
ISBN: 978-0-631-21165-5
Oct 2001, Wiley-Blackwell
284 pages
Description
This accessible, original book is an exploration of the relevance of classical social theory in the contemporary world. It examines the work of Marx, Weber and Durkheim through the lens of new theoretical issues, such as the role of Empire, the problem of cultural differences, and the possibilities of democracy that are implicit in each theorist's perspective.
Acknowledgments.
Introduction.
Part I: The Social and Intellectual Context of Classical Social Theory.
1. The World of Classical Social Theory.
2. From the Enlightenment to Nietzsche: Science, Republicanism, and Identity.
Part II: Social Science and the Canon: Marx, Durkheim, and Weber.
3. Marx: Modernity and Capitalism.
4. Durkheim: Modernity and Social Solidarity.
5. Weber: Modernity and Rationalization.
Part III: Rethinking and Expanding the Canon.
6. Freud, Simmel, and Mead: Aesthetics, the Unconscious, and the Fluid Self.
7. Du Bois and Perkins Gilman: Race, Gender, and Cultural Identity.
Conclusion.
Further Reading.
Index.
"A remarkably careful, critical reading of classical social theory, with an extraordinary sensitivity to the balance between past social contexts and present social concerns."
Robert Alun Jones, University of Illinois
<!--end-->
"Readers, particularly students new to sociology and looking for the contemporary relevance of classical social theorists, will learn much from this work". Choice

"Tucker's book would be a welcome addition to undergraduate courses in sociological theory mainly for its excellent discussion of the threats to democracy posed by globalization and the contribution it makes in opening up a discussion of the history of colonialism and the problem of cultural and political identities." Ken Morrison, Wilfrid Laurier University, Canadian Journal of Sociology Online, January-February 2003


Analyzes the relevance of classical social theory in the contemporary world.


Evaluates both postmodern rejection of the classical and conventional sociological celebrations of them.


Engages the beginning student of classical social theory as well as the established scholar.