Classical and Modern Social Theory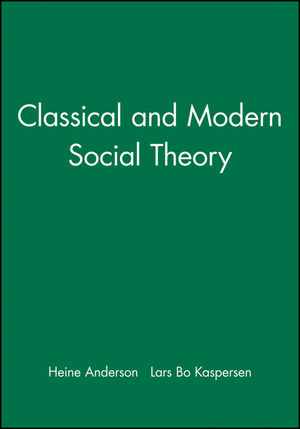 Classical and Modern Social Theory
ISBN: 978-0-631-21287-4 September 2000 Wiley-Blackwell 544 Pages
Description
Classical and Modern Social Theory is comprehensive introduction to the field, covering a wide historical range of thinkers, from the classical to the postmodernist, as well as key themes in social theory and a guide to the major debates. Designed for students with little or no background in social theory, this single volume covering both classic and contemporary theory introduces the basic concepts at the center of social theory in accessible language and provides readers with a useful reference source to the field.
Contributors.
Preface.
Acknowledgements.
1. Introduction: Classical and Modern Social Theory: William Outhwaite.
Part I: Classical Social Theories:.
2. Karl Marx: Per Månson.
3. Herbert Spencer: Heine Andersen.
4. Ferdinand Tönnies: Jorn Falk.
5. Emile Durkheim: Willy Guneriussen.
6. Max Weber: Per Månson.
7. Georg Simmel: Henrik Ornstrup.
8. American Pragmatism: Nils Mortensen.
Part II: Modern Social Theories: .
9. Marxism: Per Månson.
10. The Frankfurt School: Anders Ramsay.
11. Neo-Marxist Theories: Jens Peter Frolund Thomsen and Heine Andersen.
12. Social Interaction Theories: Gorm Harste and Nils Mortensen.
13. Rational Choice: Roar Hagen.
14. Functionalism: Heine Andersen.
15. Neofunctionalism: Alvor Fauske.
16. Conflict Theory: An Alternative to Functionalism? Pål Strandbakken.
17. Jean-Paul Sartre: Dag Osterberg.
18. Structuralism: Tom Broch.
19. Michel Foucault: Sven-Åke Lindgren.
20. Pierre Bourdieu: Staf Callewaert.
21. Jürgen Habermas: Heine Andersen.
22. Niklas Luhmann: Roar Hagen.
23. Norbert Elias: Gunnor Olofsson.
24. Anthony Giddens: Lars Bo Kaspersen.
Part III: Contemporary Challenges to Classical and Modern Social Theory: .
25. Post-Industrialization, Cultural Criticism and Risk Society: Gorm Harste.
26. Our Present: Postmodern? Poul Poder Pedersen.
27. Social Theory, Morality, and the Civil Society: Heine Andersen.
28. State, Nation, and National Identity: Uffe Ostergaard.
29. Gender and Society: Karin Widerberg.
30. From Aristotle to Modern Social Theory: Margareta Bertilsson.
Bibliography.
Name Index.
Subject Index.
"This lucidly-written book provides within a single volume a comprehensive introduction to the corpus of sociological theory. It encompasses both classical and contemporary approaches, which are presented as relevant to understanding the present state of sociological theory. This will become an essential text for students."
Larry Ray, University of Kent
<!--end-->"This volume is a comprehensive guide to theory debates today. It is composed of 30 original chapters offering succinct, accessible overviews of the key ideas of modern theory - from Marx, American pragmatism to current debates over national identity, postmodernism, and civil society, I can think of no better introduction to classical and contemporary theory." Steven Seidman, author of Contested Knowledge: Social Theory in a Postmodern Era

"An interesting, thorough, and useful anthology of informed commentary that will enliven the study of social theory for novice as well as expert. Particularly innovative is the use of European scholars whose analyses of theory is too seldom taken into account within the anglophone world. Their interpretations will, I am sure, add a fruitful dimension to an otherwise foreshortened understanding of the canon." Alan Sica, Pennsylvania State University

"This volume aspires to be a comprehensive and sophisticated introduction to classical and modern social theory...providing a range and depth of analysis." Raymond A. Morrow, University of Alberta
* Comprehensive and accessible introduction to classical and modern social theory, originally published in Danish.
* Contains chapters on both individual thinkers and the key debates.
* Textbook features include chapter summaries, comprehensive bibliography to primary and secondary literature, biographical data, lists of key concepts and definition.