Classics in Total Synthesis III: Further Targets, Strategies, Methods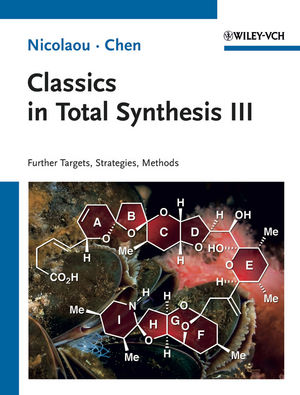 Classics in Total Synthesis III: Further Targets, Strategies, Methods
ISBN: 978-3-527-32957-1 March 2011 770 Pages
Description
K.C. Nicolaou - Winner of the Nemitsas Prize 2014 in Chemistry

Adopting his didactically skillful approach, K.C. Nicolaou compiles in this textbook the important synthetic methods that lead to a complex molecule with valuable properties. He explains all the key steps of the synthetic pathway, highlighting the major developments in blue-boxed sections and contrasting these to other synthetic methods.
A wonderful tool for learning and teaching and a must-have for all future and present organic and biochemists.
INTRODUCTION: THE ADVANCING FIELD OF TOTAL SYNTHESIS
Targets
Strategies and Methods
Classics in Total Synthesis III

TETRODOTOXIN
Introduction
Kishi's Retrosynthetic Analysis and Strategy
Kishi's Total Synthesis
Du Bois' Retrosynthetic Analysis and Strategy
Du Bois' Total Synthesis
Conclusion

DISCODERMOLIDE
Introduction
Retrosynthetic Analysis and Strategy
Total Synthesis
Conclusion

AZASPIRACID-1
Introduction
Nicolaou's Retrosynthetic Analysis and Strategy
Nicolaou's Total Synthesis
Evans' Retrosynthetic Analysis and Strategy
Evans' Total Synthesis
Conclusion

THIOSTREPTON
Introduction
Retrosynthetic Analysis and Strategy
Total Synthesis
Conclusion

PENTACYCLOANAMMOXIC ACID METHYL ESTER
Introduction
First-Generation Retrosynthetic Analysis and Strategy
First-Generation Total Synthesis
Second-Generation Retrosynthetic Analysis and Strategy
Second-Generation Total Synthesis
Conclusion

LITTORALISONE, OSELTAMIVIR (TAMIFLU®), AND HIRSUTELLONE B
Introduction
Introduction to Littoralisone
Total Synthesis of Littoralisone
Introduction to Oseltamivir (Tamiflu®)
Total Synthesis of Oseltamivir (Tamiflu®)
Introduction to Hirsutellone B
Total Synthesis of Hirsutellone B
Conclusion

RUBICORDIFOLIN AND RUBIONCOLIN B
Introduction
Retrosynthetic Analysis of Rubicordifolin
Total Synthesis of Rubicordifolin
Retrosyntheticd Analysis of Rubioncolin B
Total Synthesis of Rubioncolin B
Conclusion

CYANTHIWIGINS U AND F
Introduction
Phillips' Retrosynthetic Analysis and Strategy
Phillips' Total Synthesis
Stolz' Retrosynthetic Analysis and Strategy
Stoltz' Total Synthesis
Conclusion

STEPHACIDIN B
Introduction
Myers' Retrosynthetic Analysis and Strategy
Meyers' Total Synthesis
Baran's Retrosynthetic Analysis and Strategy
Baran's Total Synthesis
Williams' Retrosynthetic Analysis and Strategy
Williams' Total Synthesis
Conclusion

ABYSSOMICIN C AND ATROP-ABYSSOMICIN C
Introduction
Sorensen's Retrosynthetic Analysis and Strategy
Sorensen's Total Synthesis of Abyssomicin C
Nicolaou's Retrosynthetic Analysis and Strategy
Nicolaou's Total Synthesis of Abyssomicin C and atrop-Abyssomicin C
Conclusion

TETRACYCLINE
Introduction
Retrosynthetic Analysis and Strategy
Total Synthesis
Conclusion

BISANTHRAQUINONE NATURAL PRODUCTS
Introduction
Retrosynthetic Analysis and Strategy Toward 2,2'-epi-Cytoskyrin A, Rugulosin, and Rugulin
Total Synthesis of 2,2'-epi-Cytoskyrin A, Rugulosin, and Rugulin
Retrosynthetic Analysis and Strategy Toward Antibiotic BE-43472B
Total Synthesis of Antibiotic BE-43472B
Conclusion

GARSUBELLIN A
Introduction
Sibasaki and Kanai's Retrosynthetic Analysis and Strategy
Shibasaki and Kanai's Total Synthesis
Danishefsky's Retrosynthetic Analysis and Strategy
Danishefsky's Total Synthesis
Conclusion

WELWITINDOLINONE A
Introduction
Baran's Retrosynthetic Analysis and Strategy
Barans' Total Synthesis
Wood's Retrosynthetic Analysis and Strategy
Wood's Total Synthesis
Conclusion

IEJIMALIDE B
Introduction
Retrosynthetic Analysis and Strategy
Total Synthesis
Conclusion

KEDARCIDIN CHROMOPHORE AND MADUROPEPTIN CHROMOPHORE
Introduction
Retrosynthetic Analysis and Strategy for Kedarcidin Chromophore
Total Synthesis of Kedarcidin Chromophore
Retrosynthetic Analysis and Strategy for Maduropeptin Chromophore
Total Synthesis of Maduropeptin Chromophore
Conclusion

BIYOUYANAGIN A
Introduction
Retrosynthetic Analysis and Strategy
Total Synthesis
Conclusion

AZADIRACHTIN
Introduction
Retrosynthetic Analysis and Strategy
Synthesis
Conclusion

RESVERATROL-DERIVED NATURAL PRODUCTS
Introduction
Snyder's Retrosynthetic Analysis and Strategy for a Collection of Resveratrol-Derived Natural Products
Snyder's Total Synthesis of a Collection of Resveratrol-Derived Natural Products
Nicolaou and Chen's Retrosynthetic Analysis and Strategy for Hopeahainol A and Hopeanol
Nicolaou and Chen's Total Synthesis of Hopeahainol A and Hopeanol
Conclusion

CHLOROSULFOLIPID CYTOTOXIN
Introduction
Retrosynthetic Analysis and Strategy
Total Synthesis
Conclusion

SPOROLIDE B
Introduction
Retrosynthetic Analysis and Strategy
Total Synthesis
Conclusion

11,11'-DIDEOXYVERTICILLIN A AND CHAETOCIN
Introduction
Retrosynthetic Analysis and Strategy for 11,11'-Dideoxyverticillin A
Total Synthesis of 11,11'-Dideoxyverticillin A
Retrosynthetic Analysis and Strategy for Chaetocin
Total Synthesis of Chaetocin
Conclusion

VANNUSAL B
Introduction
Retrosynthetic Analysis and Strategy
Total Synthesis
Conclusion

HAPLOPHYTINE
Introduction
Fukuyama and Tokuyama's Retrosynthetic Analysis and Strategy
Fukuyama and Tokuyama's Total Synthesis
Nicolaou and Chen's Retrosynthetic Analysis and Strategy
Nicolaou and Chen's Total Synthesis
Conclusion

PALAU'AMINE
Introduction
Retrosynthetic Analysis and Strategy
Total Synthesis
Conclusion
"Classics in Total Synthesis III will surely itself become a classic in the literature on the state of the art of contemporary organic synthetic chemistry." (Angewandte Chemie, 2011)