Classroom Assessment Techniques: A Handbook for College Teachers, 2nd Edition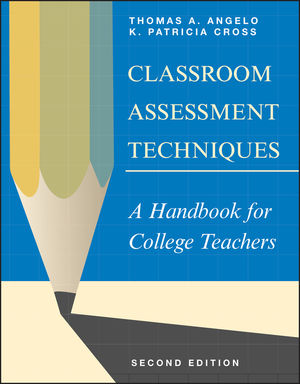 Classroom Assessment Techniques: A Handbook for College Teachers, 2nd Edition
ISBN: 978-1-555-42500-5
Mar 1993, Jossey-Bass
448 pages
Description
This revised and greatly expanded edition of the 1988 handbook offers teachers at all levels how-to advise on classroom assessment, including:
What classroom assessment entails and how it works.
How to plan, implement, and analyze assessment projects.
Twelve case studies that detail the real-life classroom experiences of teachers carrying out successful classroom assessment projects.
Fifty classroom assessment techniques
Step-by-step procedures for administering the techniques
Practical advice on how to analyze your data
Order your copy today.
Getting Started in Classroom Assessment.Classroom Assessment Techniques.

Building on What We Have Learned.
In the eleven years since the first edition of this book was published, Classroom Assessment has become increasingly useful in the teacher's arsenal of tools.
Once the concepts of CAT are understood, the instructor can move on to create course-specific techniques tailored to his or her teaching style and the learning styles of a particular class, thus greatly enhancing the usefulness of Classroom Assessment.
This book is extremely useful and would be a worthy addition to both teachers' and advisors' libraries.
—Cynthia A. Walker, Ph.D., From NACADA Journal