Classroom Discipline and Management, 5th Edition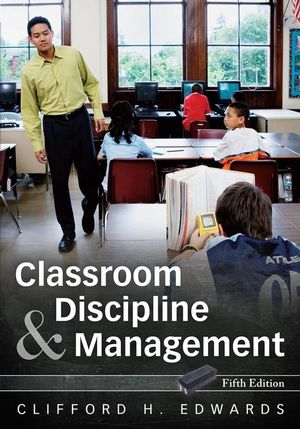 Classroom Discipline and Management, 5th Edition
ISBN: 978-1-118-52065-9 September 2012 416 Pages
Description
This text is designed to help teachers explore approaches to classroom discipline along with their own personal philosophy. The text emphasizes informed decision-making, focusing on providing teachers an understanding of the assumptions behind a disciplinary approach, as well as the theory and practical applications of that approach.
The new 5th edition looks closely at the extent to which a particular theory or approach is designed to either prevent or correct discipline problems -- an aspect of discipline that is often ignored. This important consideration is raised for each approach. Another basic consideration throughout this new edition is the dramatic increase in diverse student populations and the teacher's role in helping these children learn efficiently and effectively.
Table of contents
Unit 1. Problems and Issues in Discipline.
Chapter 1. Discipline Problems And Their Causes.
Chapter 2. Making Decisions About Discipline.
Unit 2. Discipline Models.
Chapter 3. Behavior Modification.
Chapter 4. Assertive Discipline: Lee Canter.
Chapter 5. Logical Consequences.
Chapter 6. Democratic Discipline In Learning Communities.
Chapter 7. Teacher Effectiveness Training.
Chapter 8. Reality Therapy/Choice Theory.
Chapter 9. Judicious Discipline: Forrest Gathercoal.
Chapter 10. The Jones Model.
Unit 3. Creating A Comprehensive Discipline Program.
Chapter 11. Choosing A Discipline Approach.
Chapter 12. Creating A Personal Theory Of Discipline.
Unit 4. Classroom Management Approaches And Procedures.
Chapter 13. Violence In The Schools.
Chapter 14. Classroom Management And Student Diversity.
Chapter 15. Managing The Classroom.
Features
Decision Making format of the text helps future teachers become more effective in teaching and discipline in a way they are more comfortable with.