Classroom Management: Creating a Successful K-12 Learning Community, 5th Edition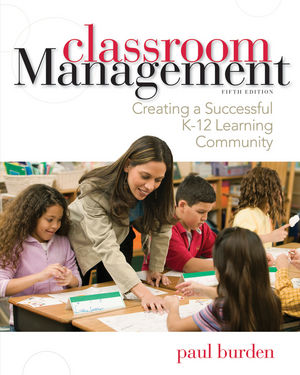 Classroom Management: Creating a Successful K-12 Learning Community, 5th Edition
ISBN: 978-1-118-36006-4
Oct 2012
320 pages
Product not available for purchase
Description
A practical guide to what can be accomplished utilizing the technical aspects of classroom management, this invaluable resource will not only help educators learn how to build positive classroom communities, but also outline methods for involving students in the creation of their learning environment. The Fifth Edition has been updated to include a new chapter on communication skills for teaching, incorporated classroom case studies in each chapter, and includes updates using the latest management research in several chapters.
Chapter 1: Understanding Management and Discipline in the Classroom
Chapter 2: Models of Discipline
Chapter 3: Preparing for the School Year
Chapter 4: Choosing Rules and Procedures
Chapter 5: Maintaining Appropriate Student Behavior
Chapter 6: Communication Skills for Teaching
Chapter 7: Motivating Students to Learn
Chapter 8: Knowing Your Diverse Students
Chapter 9: Helping Students with Special Needs
Chapter 10: Planning and Conducting Instruction
Chapter 11: Responding to Inappropriate Behavior
Chapter 12: Dealing with Challenging or Violent Students
Chapter 13: Collaborating with Colleagues and Families
Added a new chapter on communication skills for teaching (Chapter 6)
Added a new feature—Classroom Case Study—in each chapter to engage the reader in decision making about the chapter content
Added new sections in several chapters:
Added a list of technology resources at the end of each chapter
Restructured and updated Chapter 8 on Knowing Your Diverse Students
Restructured the sections on discipline interventions and the three-step response plan (in Chapter 11)
Moved the chapter on families and colleagues later in the book (now Chapter 13)
Updated the section on struggling learners (in Chapter 8)
Updated the section on brain-compatible learning (in Chapter 8)
Included 16 new "Voices from the Classroom" features, which include teacher quotes, many of them from urban districts, with a balance of elementary and middle/high school teachers
Added 14 more "What Would You Decide?" features and updated the existing features to engage the reader in classroom-related scenarios about the chapter content
Updated the standards tables to include the newest InTASC and NBPTS standards
Added 121 new and current references, updated the existing references, and removed old references
Changed the titles of two chapters to reflect the new and updated content (Chapters 8 and 13) 
Each chapter opens with an outline of headings and subheadings to serve as an organizer for each chapter content.
Expected reader outcomes are identified by a list of objectives at the beginning of each chapter/
Voices from the Classroom provides an inside look into how real teachers deal with the topics presented in the chapter.
An ongoing activity, Developing Your Management Plan affords students the opportunity to write about their own management plan concerning chapter topics.
Students are engaged in the content of every chapter through What Would You Decide scenarios and questions.
Each chapter ends with a list of main concepts to summarize significant issues covered.
Activities are suggested at the end of every chapter to enable the reader to study and apply the issues addressed.