Classroom Management Strategies: Gaining and Maintaining Students' Cooperation, 7th Edition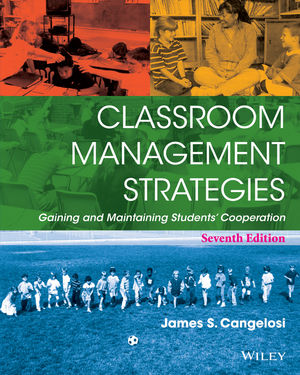 Classroom Management Strategies: Gaining and Maintaining Students' Cooperation, 7th Edition
ISBN: 978-1-118-80364-6 October 2013 416 Pages
Download Product Flyer
Download Product Flyer
Download Product Flyer is to download PDF in new tab. This is a dummy description. Download Product Flyer is to download PDF in new tab. This is a dummy description. Download Product Flyer is to download PDF in new tab. This is a dummy description. Download Product Flyer is to download PDF in new tab. This is a dummy description.
Description
Classroom Management Strategies: Gaining and Maintaining Students' Cooperation contains a wealth of information about classroom management strategies that teachers successfully use to lead students to be on-task and engaged in lessons. The strategies are based on extensive school teaching experiences as well as on the findings of numerous studies in learning theory, social interaction, communication, developmental psychology, multicultural education, behavioristic psychology, motivation, student engagement, and violence prevention.
Table of contents
Preface v
PART I THE RESEARCH-BASED ART OF LEADING STUDENTS TO COOPERATE 1
CHAPTER 1 The Complex Art of Teaching 3
Chapter 1's Goal and Objectives 3
Teaching Experiences: Satisfying or Frustrating 3
Teaching Cycles 4
Allocated Time and Transition Time 9
Student Behaviors 9
On-Task, Engaged, Off-Task, and Disruptive 9
Prosocial and Antisocial 11
Taking Charge in Your Classroom 12
Synthesis Activities for Chapter 1 12
Transitional Activity from Chapter 1 to Chapter 2 16
CHAPTER 2 Schools of Thought and the Research Bases for Classroom Management Strategies 18
Chapter 2's Goal and Objectives 18
Students Need to Be Taught to Cooperate 19
Implications from Learning Theory 20
Implications from Studies of Social Interaction and Communications 27
Critical Communication Styles and Classroom Climates 27
True Dialogues Instead of IRE Cycles 28
Other Implications Regarding Communication Styles 34
Implications from Studies in Developmental Psychology and Multicultural Education 34
Implications from Behavioristic Psychology 37
Learned Responses 37
Behavior Modification 38
Isolated Behaviors and Behavior Patterns 38
Positive Reinforcers 39
Destructive Positive Reinforcers 40
Contrived versus Naturally Occurring Punishment 42
Differences Between the Effects of Naturally Occurring and Contrived Punishment 42
Unwittingly Administered Punishment 44
Destructive Punishment 44
Negative Reinforcement 45
Implications from Studies Focusing on Motivation and Student Engagement 46
Student Disinterest 46
Intrinsic Motivation 46
Extrinsic Motivation 46
The Preferred Type of Motivation 48
Implications from Studies Focusing on Violence Prevention in Schools 48
Synthesis Activities for Chapter 2 49
Transitional Activity from Chapter 2 to Chapter 3 53
PART II FOSTERING COOPERATION AND PREVENTING DISCIPLINE PROBLEMS 55
CHAPTER 3 Establishing a Favorable Climate for Cooperation 57
Chapter 3's Goal and Objectives 57
Creating a Businesslike Climate 57
The Advantage of a Businesslike Atmosphere 57
The Meaning of Businesslike 58
Five Steps toward a Businesslike Atmosphere 59
Beginning a New School Year 59
Students' Perceived Notions 59
Taking Advantage of Initial Uncertainty 59
Planning for a Favorable Beginning 60
Learning Activities Conducive to a Favorable Beginning 62
Displaying Withitness 71
Modeling Preparation and Organization 72
The Importance of the Third and Fourth Stages of Teaching Cycles 72
The Effects of Preparation on Classroom Climate and Efficiency 73
Orchestrating Smooth, Efficient Transitions 74
Smoothness of Transitions and Momentum 74
Minimizing Transition Time 79
Dispensing with Administrative Duties 79
Inefficient Use of Class Time 79
Efficient Use of Class Time 80
Saving Time When Distributing Materials and Giving Directions 81
Efficient Beginnings to Learning Activities 81
Freedom from Having to Speak to the Whole Class 82
Distributing Materials Ahead of Time 83
Cues for Efficient Routines 83
Employing Technology to Enhance Classroom Efficiency 85
Saving Time with Intraclass Grouping 86
Accommodating Students Who Complete Work at Different Times 87
Creating a Comfortable, Nonthreatening, and Safe Learning Community 87
A Frightening Place 87
Risking Self-Respect 88
Disassociating Self-Respect from Achievement 90
Synthesis Activities for Chapter 3 90
Transitional Activity from Chapter 3 to Chapter 4 92
CHAPTER 4 Establishing Cooperative Relationships 93
Chapter 4's Goal and Objectives 93
Using Descriptive Instead of Judgmental Language 94
Focused Descriptions, Not Characterizations or Labels 94
Differences between Descriptive and Judgmental Language 95
The Consequences of Judgmental Language 96
The Detrimental Effects of Characterizations 96
The Fallacy of Labels 97
Competition or Cooperation 98
Teaching Students to Listen to You 98
The Richness of Descriptive Language 98
The Judicious Use of Words 99
Thinking Before Talking 100
More and More Useless Words 101
Speaking Only to Intended Listeners 102
Body Language and Proximity 102
Voice Tone 105
Speaking Only to the Attentive 106
Listening to Students 107
Using Supportive Replies 108
Accepting Feelings 108
Relieving Frustration 108
Defusing Conflict 109
Avoiding Unintended Messages 110
The Risk of Misinterpretation 110
Modeling a Businesslike Attitude 111
Avoiding Disruptive Teacher Behavior 111
Being Responsible for One's Own Conduct 112
Communicating Assertively 115
The Assertive Response Style 115
Controlling Your Professional Life 117
Teaching Students to Communicate Assertively 121
Communicating Evaluations 121
Two Reasons for Communicating Evaluations 121
Emphasizing Formative Evaluations 126
Grades as a Form of Communication 130
Fostering Parents' Cooperation 130
Focusing on Formative Evaluations 130
Conferences 131
Written Communications 132
Professional Confidence and Students' Rights 132
Unprofessional Behavior 132
Privileged Information 134
Synthesis Activities for Chapter 4 135
Transitional Activity from Chapter 4 to Chapter 5 139
CHAPTER 5 Standards for Conduct, Routine Procedures, and Safe-School Policies 140
Chapter 5's Goal and Objectives 140
Standards for Classroom Conduct 140
Purposefully Stated Standards 140
The Number of Standards for Classroom Conduct 142
Procedures for Smoothly Operating Classrooms 142
Necessary Standards for Conduct 144
Four Purposes 144
Justification of a Standard 144
Politeness and Courtesy 145
The Consequences of Unnecessary Standards 146
When to Determine Standards and Routine Procedures 146
Who Should Determine Standards? 147
Teaching Standards and Procedures to Students 148
Schoolwide Discipline Policies 151
Developing Safe-School Programs 152
The Roots of School Violence 152
Focus on Prevention Not Retribution 154
Violence-Prevention Strategies 155
Conflict Management and Resolution in Curricula 155
Reducing Gang-Related Activities in School 162
Gang Activities 162
Working with Gang-Affiliated Students and Eliminating Gang Activities in School 165
Gentle, Caring School Communities 167
Essentials of an Effective Safe-School System 171
Eleven Elements 171
Consensus within the Community 171
Research and Periodic Safety Audits 172
School-Safety Committee 172
Team Approach 173
Training for All School Personnel 173
Coordination with Schoolwide Discipline Policies 173
Provisions for Building Positive Relationships 174
Provisions for Conflict Resolution 174
Communication Systems 174
Backup and Crisis-Support Resources and Procedures 175
Traffic Control and Intruder Prevention 175
Synthesis Activities for Chapter 5 177
Transitional Activity from Chapter 5 to Chapter 6 179
CHAPTER 6 Working with Individual Differences among Students 180
Chapter 6's Goal and Objectives 180
The Key: Relating to Students as Individuals 181
Including Students with Characteristics Typically Disdained in So-Called Mainstream Society 185
The Consequences of Students Feeling Marginalized 185
Strategies for Inclusion in Your Classroom 186
Special Populations 189
Legal Concerns Relative to Inclusion and Accommodation 191
Classroom Management Implications of IDEA and Other Federal Statutes 191
Zero-Reject and IEP Implications for Classroom Management 192
An Example of a Teacher's Accommodations for Health and Hearing Impairments 192
An Example of a Teacher's Accommodations for a Learning Disability 204
An Example of a Teacher's Accommodations for an Emotional Disturbance 208
Accommodating and Including Students for Whom English Is Not a First Language 217
Benefitting from Cultural Diversity 221
Synthesis Activities for Chapter 6 227
Transitional Activity from Chapter 6 to Chapter 7 228
PART III MOTIVATING STUDENTS TO ENGAGE IN LEARNING ACTIVITIES 229
CHAPTER 7 Conducting and Monitoring Engaging Learning Activities 231
Chapter 7's Goal and Objectives 231
Problem-Based Learning 231
Non-Problem-Based Approach 231
Problem-Based Approach 232
Intrinsic Motivation Via the Problem-Based Approach 234
Delivering Directions for Learning Activities 236
Explicitness, Specificity, and Directness 236
Nine Points about Directions 238
Monitoring Student Engagement 240
Variety of Learning Activities 248
Ideas for Lecture Sessions 248
Student Engagement during Lectures 248
Fifteen Points about Lectures 251
Ideas for Cooperative Learning Sessions 254
Students Learning from One Another 254
Guidance and Structure for Maintaining Engagement 254
Ten Points about Cooperative Learning Sessions 256
Ideas for Discussion Sessions 258
Student Engagement during Discussions 258
Seven Points about Discussion Sessions 259
Ideas for Questioning Sessions 260
Student Engagement during Questioning Sessions 260
Six Points about Questioning Sessions 264
Ideas for Independent Work Sessions 265
Student Engagement during Independent Work Sessions 265
Four Points about Independent Work Sessions 266
Ideas for Homework Assignments 267
Student Engagement in Homework Assignments 267
Eight Points about Homework Assignments 269
Classroom Designs That Enhance Student Engagement 271
Synthesis Activities for Chapter 7 281
Transitional Activity from Chapter 7 to Chapter 8 282
PART IV CONFRONTING AND SOLVING DISCIPLINE PROBLEMS 283
CHAPTER 8 Approaching Off-Task Behaviors Systematically 285
Chapter 8's Goal and Objectives 285
Deal with Off-Task Behaviors via the Teaching Cycles Model 285
A Mechanism for Focusing 285
More Elaborate Applications 287
Staying Calm and Organizing Thoughts 291
Deal with Misbehaviors Before They ''Get to You'' 292
Either Respond Decisively to an Off-Task Behavior or Do Not Overtly React to It at All 292
Distinguish between Teaching Students to Be On-Task and Building Character 294
A Teacher's Responsibilities and Capabilities 294
Focusing on the Task 295
Distinguish between Isolated Off-Task Behaviors and Off-Task Behavior Patterns 296
Control the Time and Place for Dealing with Off-Task Behaviors 296
A Cautionary Note Regarding Private Meetings with Students 298
Provide Students with Dignified Options for Terminating Off-Task Behaviors 299
Avoid Playing Detective 300
Use Alternative Lesson Plans 301
Use the Help of Colleagues 302
Use the Help of Parents and Instructional Supervisors 302
The Myth of the ''Good Teacher'' 302 Assertiveness 303
Do Not Use Corporal Punishment 304
Corporal Punishment 304
Arguments for and against Corporal Punishment 306
Corporal Punishment: A Poor Choice 309
Know Your Rights and Limitations 309
Maintain Your Options 310
Know Yourself and Your Students 310
Synthesis Activities for Chapter 8 310
Transitional Activity from Chapter 8 to Chapter 9 313
CHAPTER 9 Modifying Off-Task Behavior Patterns 314
Chapter 9's Goal and Objectives 314
Systematic Techniques for Changing Habits 314
The Formations and Elimination of Behavior Patterns 314
The Need for Systematic Observation 314
Applying the Principle of Extinction 316
The Principle 316
Unintentional Extinction 316
Intentional Extinction 317
Alternative Behavior Patterns 318
Applying the Principle of Shaping 319
Maintaining Desirable Behavior Changes 320
Reinforcement Schedules 320
Fixed Schedules 320
Intermittent Schedules 321
Planned Schedules of Reinforcement 322
Cuing 323
Generalization and Discrimination 324
The Idea 324
The Principle of Generalization 324
The Principle of Discrimination 324
Distinguishing between Generalizing and Discriminating 325
Applying the Principle of Modeling 326
Applying the Principle of Satiation 327
Synthesis Activities for Chapter 9 328
Transitional Activity from Chapter 9 to Chapter 10 329
CHAPTER 10 Dealing with Nondisruptive Off-Task Behaviors 330
Chapter 10's Goal and Objectives 330
Nondisruptive Off-Task Behaviors 330
Mind Wandering and Daydreaming 331
Detection and Response 331
Strategies 332
Refusing to Participate in Class Activities 333
Failing to Complete Homework Assignments 338
Meaningful Homework 338
Strategies 339
Failing to Bring Needed Materials to Class 340
Being Under the Influence of Debilitating Drugs 341
Teachers' Attitudes 341
Strategies 342
Being Absent or Tardy 346
Schoolwide Policies for Extrinsically Motivating Student Attendance 346
Teachers' Policies for Extrinsically Motivating Student Attendance 347
Irrationality of Some Popular Attendance Policies 347
Strategies 348
Cheating on Tests 349
Nine Incidents 349
Prevalence and Causes of Cheating 351
Strategies 352
Synthesis Activities for Chapter 10 355
Transitional Activity from Chapter 10 to Chapter 11 355
CHAPTER 11 Dealing with Disruptive Behaviors 357
Chapter 11's Goal and Objectives 357
Disruptive Behaviors 357
Dealing with Nonviolent Disruptions 357
Disruptive Talking 357
Interrupting 359
Clowning 361
Being Discourteous 363
Failing to Clean Up 365
Dealing with Violent Disruptions 366
Safe-School Programs in Place 366
Bullying 366
Fighting 368
Attacks on Teachers 374
Causes 374
Strategies 376
Vandalizing 377
Synthesis Activities for Chapter 11 378
Transitional Activity from Chapter 11 to Chapter 12 378
PART V MAKING CLASSROOM MANAGEMENT STRATEGIESWORK FOR YOU 379
CHAPTER 12 Continuing to Build your Classroom Management Talents 381
Chapter 12's Goal 381
Building on Experiences 381
Instructional Supervision 382
Assessing Your Own Teaching 384
Action Research 385
Your Uniqueness 385
References 387
Index 395
New To This Edition
Updated content is incorporated throughout that reflects advances in instructional technology and recently published research findings.
Attention to legal implications of teachers' choices of classroom management practices - especially teachers' responses to students' off-task behaviors - is more emphasized throughout the text than it was in the prior edition.
Nineteen cases observed since the publication of the sixth edition have been incorporated and some of the previous cases were deleted.
To accommodate the new content without appreciably increasing the book's length and to improve the pedagogy, the writing throughout has been edited so that the presentations are crisper and connections among various topics are more explicitly explained.
Features
Chapters begin with a goal defined by a set of objectives.
Embedded throughout chapters are prompts for you to engage in activities designed to enhance your talent for developing classroom management strategies.
Included at the end of each of the first 11 chapters are synthesis activities and a transitional activity.
This book not only explains such strategies but also brings them to life in 328 cases - 327 of which are drawn from a wide range of actual elementary, middle, junior high, and senior high school teaching experiences as well as a few parent-child interactions. The one fabricated case is Case 7.1.